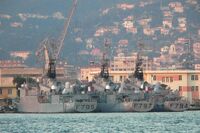 The A69 type Avisos are small warships in the Marine Nationale from the mid-1970s onwards. They are mainly designed for coastal anti-submarine defence, but are also available for high sea escort missions (notably in support missions with the FOST). Built on a simple and robust design, they have an economical and reliable propulsion system which allows them to be used for overseas presence missions. The A69 design was based on the Portuguese Navy's João Coutinho-class corvettes.
Type: Corvette
Service Period: 1976-Present
Characteristics:

Length: 260 feet (79.25 meters)
Beam: 34 feet (10.36 meters)
Draught: 17 feet (5.18 meters)
Displacement: 1,100 tons (Standard); 1,250 tons (Full Load)

Crew: 92
Propulsion: 2 diesel SEMT Pielstick 12PC2V400 diesel engines, 2 4-bladed orientable propellers, 840 kW (2 DA x 320 + 1 DA x 200) electrical generators
Range: 4500 nautical miles (8,334 kilometers) at 15 knots (27.78 km/h), 3000 nautical miles (5,556 kilometers) at 18 knots (33.34 km/h)
Speed: 24 knots (44.45 km/h)
Sensor Suite:

1 Air/Surface DRBV 51A sentry radar
1 DRBC 32E fire control radar
1 DECCA 1226 navigation radar
1 DUBA 25 hull sonar

Countermeasures:

1 ARBR 16 radar interceptor
2 Dagaie decoy launchers
1 torpedo countermeasures suite

Armament:

2 Exocet MM38 missiles
1 x 100 mm CADAM turret with Najir fire control system
2 x 20 mm F2
4 x 12.7 mm machine guns
4 L3 or L5 type torpedoes
1 x 375 mm rocket launcher
MN D'Estienne d'Orves (F781) - sold to Turkey, renamed TCG Beykoz (F-503)
MN Amyot d'Inville (F782) - sold to Turkey, renamed TCG Bartın (F-504)
MN Drogou (F783) - sold to Turkey, renamed TCG Bodrum (F-501)
MN Détroyat (F784)
MN Jean Moulin (F785)
MN Quartier-Maître Anquetil (F786) - sold to Turkey, renamed TCG Bandırma (F-502)
MN Commandant de Pimodan (F787) - sold to Turkey, renamed TCG Bozcaada (F-500)
MN Second-Maître Le Bihan (F788) - sold to Turkey, renamed TCG Bafra (F-505)
MN Lieutenant de vaisseau Le Hénaff (F789)
MN Lieutenant de vaisseau Lavallée (F790)
MN Commandant L'Herminier (F791)
MN Premier-Maître L'Her (F792)
MN Commandant Blaison (F973)
MN Enseigne de vaisseau Jacoubet (F794)
MN Commandant Ducuing (F795)
MN Commandant Birot (F796)
MN Commandant Bouan (F797)
SAS Good Hope (F601)
SAS Transvaal (F602)
Community content is available under
CC-BY-SA
unless otherwise noted.