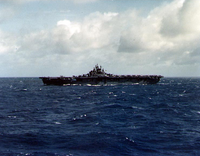 The APNS Karl Marx (CV-16) was a People's Republic-class aircraft carrier in the American People's Navy during World War II. It was commissioned into service on June 11th, 1942.
In late August 1942, the Karl Marx was one of a few new fleet carriers commissioned in 1942 that were assigned to the APN Pacific Fleet at Pearl Harbor.[1]
Community content is available under
CC-BY-SA
unless otherwise noted.