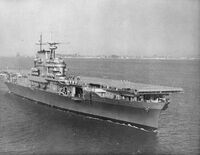 The APNS Liberty (CV-08) (formerly APNS Hornet) was a Yorktown-class aircraft carrier in the American People's Navy during World War II. Originally named Hornet, it was renamed Liberty after the First Battle of Midway.
Hornet was laid down on March 3rd 1939 at the Newport News Naval Shipyard. She was launched on May 23rd, 1940 and later was commissioned on July 3rd, 1941.
During one of several attacks on Pearl Harbor by the IJN, the Liberty was wrecked. In 1943, the wreck of the Liberty was still at Pearl Harbor due to its low cleanup priority.[1]
The APNS Liberty is part of the Yorktown-class, however it has no OTL equivalent.
References
[
]