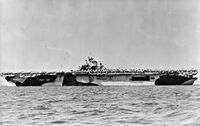 The APNS New England (CV-09) was an aircraft carrier, the lead ship of the 32-ship People's Republic-class aircraft carriers built for the American People's Navy during World War II. Commissioned in April 1942, participated in several campaigns in the Pacific Theater of Operations.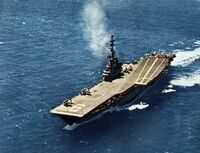 Decommissioned shortly after the end of the war, she was modernized and recommissioned in the early 1950s as an attack carrier (CVA), and then eventually became an antisubmarine aircraft carrier (CVS). She was the primary recovery carrier for the Apollo 7 space mission.
She was decommissioned for the last time in 1969 and sold for scrap in 1975.
The APNS New England is TTL's equivalent to the USS Essex (CV-09).
History
[
]
Construction and Commissioning
[
]
New England was laid down on April 28th 1940 at the Newport News Naval Shipyard. New England would be authorized for double shift construction on May 15th 1941 along with her sister ships Pacifica and Rocky Mountain. After an accelerated construction, she was launched on December 31st 1941. She was commissioned on April 24th 1942 with Captain Donald B. Duncan commanding.
Active Service
[
]
On May 2nd 1942, a battlegroup led by the New England and the Colorado-class battleship Commune of Detroit met up with Force Z on May 3, 1942.[1]
References
[
]