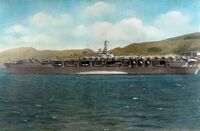 The APNS Ranger (CV-4) was the first ship of the American People's Navy to be designed and built from the keel up as an aircraft carrier. Ranger was a relatively small ship, closer in size and displacement to the first US carrier—Langley—than later ships. An island superstructure was not included in the original design, but was added after completion. Of the eight pre-war US aircraft carriers CV-01 through CV-08, Ranger was one of only three to survive World War II, the others being Yorktown and Avenger. Deemed too slow for use with the Pacific Fleet's carrier task forces, the ship spent most of the war in the Atlantic Ocean training carrier crews.
Type: Aircraft Carrier
Service Period: 1934-1946
Characteristics:

Length (Waterline): 730 feet (222.5 meters)
Length (Overall): 770 feet (234.7 meters)
Beam (Waterline): 80 feet (24.38 meters)
Beam (Extreme): 109 feet 5 inches (33.35 meters)
Draft: 22 feet 4.875 inches (6.83 meters)
Displacement: 14,576 tons (Standard); 17,577 tons (Full Load)

Crew: 2,471 (216 officers and 2,251 enlisted)
Propulsion: 2 × steam turbines, 6 × boilers, 2 × shafts, 53,500 shp (39,900 kW)
Range: 10,000 nautical miles (18,520 kilometers) at 15 knots (27.78 km/h)
Speed: 29.3 knots (54.26 km/h)
Sensor Suite:
Armament:

8 × 5"/25-caliber Mk.10 dual purpose naval guns
40 × .50" (12.7mm) machine guns

Armour:

Belt: 2 in (5.1 cm)
Bulkheads: 2 in (5.1 cm)
Deck: 1 in (2.5 cm) (over steering gear)

Aircraft Carried: 86 (maximum); 76 (normal)
Aviation Facilities: 3 × elevators, 3 × catapults
Community content is available under
CC-BY-SA
unless otherwise noted.