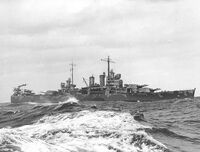 APNS Wichita (CA-45) was a unique heavy cruiser of the American People's Navy built in the 1930s. She was authorized by the 1929 Cruiser Act, laid down at the Philadelphia Naval Shipyard in October 1935, launched in November 1937, and commissioned into the American People's Navy in February 1939. The last American cruiser built under the terms of the London Naval Treaty, Wichita was a heavy cruiser variant of the Brooklyn-class of light cruisers, and formed the basis for the later Baltimore-class heavy cruisers. She was armed with a main battery of nine 8"/55-caliber Mk.12 guns in three triple turrets.
Type: Heavy Cruiser
Service Period: 1939-1947
Characteristics:

Length: 608 feet 4 inches (185.42 meters)
Beam: 62 feet (18.9 meters)
Draft: 23 feet 9 inches (7.24 meters)
Displacement: 10,590 tons (Standard); 13,015 tons (Full Load)

Crew: 929 officers and enlisted
Propulsion: 4 Parsons steam turbines, 8 Babcock & Wilcox boilers, 4 screws, 100,000 shp (75 MW)
Range: 10,000 nautical miles (18,520 kilometers) at 15 knots (27.78 km/h)
Speed: 33 knots (61.12 km/h)
Sensor Suite:

Mk.13 Fire Control Radar
Mk.28 Fire Control Radar
Mk.34 Fire Control Gear

Armament:

9 x 8"/55-caliber Mk.12 naval guns (3x3)
8 x 5"/38-caliber Mk.12 dual purpose naval guns (8x1)
24 x Bofors 40mm anti-aircraft guns (6x4)
22 x Oerlikon 20mm anti-aircraft cannons (11x2)

Armour:

Belt armor: 6.4-inches (162.46 mm)
Deck: 2.25-inches (57.15 mm)
Turrets: 8-inches (203.2 mm)
Barbettes: 7-inches (177.8 mm)
Conning tower: 6-inches (152.4 mm)

Aircraft Carried: 4 x scout planes
Aviation Facilities: 2 x catapults
Community content is available under
CC-BY-SA
unless otherwise noted.