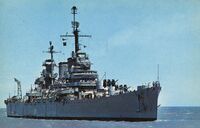 The ARA Nueve de Julio was a Brooklyn-class cruiser of the Argentine People's Armada, purchased from the UAPR on 11 January 1951. Nueve de Julio was sunk during the Falklands War in 1982 in a gun duel with the British Lion-class battleships HMS Dreadnought and HMS Thunderchild.[1]
Slightly after noon on April 26th, 1983, the Argentine cruisers ARA General Belgrano and ARA Nueve de Julio engaged the British battleships HMS Thunderchild and HMS Dreadnought. Ten minutes after engaging, a shot from Thunderchild penetrated the magazine of the Nueve de Julio, destroying the cruiser.
Community content is available under
CC-BY-SA
unless otherwise noted.