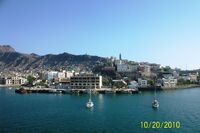 Aden
(Arabic: عدن‎), officially the
Imperial City of Aden
(Arabic: الإمبراطورية مدينة عدن), is a city-state and a constituent country of the British Empire. Located by the eastern approach to the Red Sea (the Gulf of Aden), some 170 kilometres east of Bab-el-Mandeb, its population is approximately one and a half million people. Aden's ancient, natural harbour lies in the crater of a dormant volcano which now forms a peninsula, joined to the mainland by a low isthmus. This harbour, Front Bay, was first used by the ancient Kingdom of Awsan between the 5th and 7th centuries BCE. The modern harbour is on the other side of the peninsula.
Aden consists of a number of distinct sub-centers: Crater, the original port city; Ma'alla, the modern port; Tawahi, known as "Steamer Point" in the colonial period; and the resorts of Gold Mohur. Khormaksar, located on the isthmus that connects Aden proper with the mainland, includes the city's diplomatic missions, the main offices of Aden University, Aden International Airport and RAF Khormaksar. On the mainland are the sub-centres of Sheikh Othman, a former oasis area, and Al-Mansura, a town planned by the British.
Aden encloses the eastern side of a vast, natural harbor that comprises the modern port. The volcanic peninsula of Little Aden forms a near-mirror image, enclosing the harbor and port on the western side. Little Aden became the site of the oil refinery and tanker port. Both were established and are operated by British Petroleum. Aden gives its name to the Gulf of Aden.
Twin Cities
Edit
Community content is available under
CC-BY-SA
unless otherwise noted.