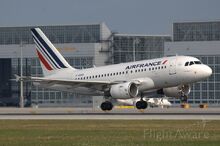 The Airbus A318 is the smallest member of the Airbus A320 family of short- to medium-range, narrow-body, commercial passenger twin-engine jet airliners manufactured by Airbus. The A318 carries up to 132 passengers and has a maximum range of 3,100 nautical miles (5,741.2 kilometers). Final assembly of the aircraft takes place in Hamburg, Germany. It is intended primarily for short-range service, although Air France uses them on their Paris-Orly Airport to Saint-Pierre Airport transatlantic route and on Paris to Montreal flights in an all-business-class configuration (albeit with a stopover in Brest for refueling on the westbound leg).
The aircraft shares a common type rating with all other Airbus A320 family variants, allowing existing A320 family pilots to fly the aircraft without the need for further training. It is the largest commercial aircraft certified by the European Aviation Safety Agency for steep approach operations, allowing flights at airports such as London City.
The A318 entered service in July 2003 with Canadian low-cost carrier Frontier Airlines. Relative to other Airbus A320 family variants, it has sold in only small numbers with total orders for only 80 aircraft placed, with the order book currently being empty.
Community content is available under
CC-BY-SA
unless otherwise noted.