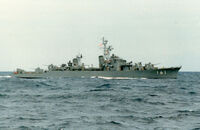 The Akizuki-class destroyer was a destroyer class built for the Republic of Japan Navy (RoJN) in the late 1950s. This class was planned to be a flotilla leader with the enhanced command and control capability, so sometimes this class was classified as the "DDC" (commanding destroyer) unofficially.
At the beginning, the British Military Assistance Advisory Group-Japan (MAAG-J) recommended a modified version of the British Daring-class destroyer, but West Japan had already constructed surface combatants of their own at that time.
Like its predecessor Murasame-class DDAs and Ayanami-class DDKs, this class adopted a "long forecastle" design with inclined afterdeck called "Holland Slope", named after the scenic sloping street in Nagasaki. With the enlargement of the hull, the steam turbine propulsion system was uprated with higher-pressure boilers (570 psi).
This class was equipped with both gunnery weapons of Murasame-class DDAs and torpedo/mine weapons of Ayanami-class DDKs.
Specifications
[
]
Type: Destroyer
Service Period: 1960-1993
Characteristics:

Length: 390 feet (118.87 meters)
Beam: 40 feet (12.19 meters)
Draft: 13 feet 1 inch (3.99 meters)
Displacement: 2,410 tons (Standard); 2,960 tons (Full Load)

Crew: 330
Propulsion: 4 Mitsubishi/CE type boilers, 2 Westinghouse geared turbines, 2 shafts, 45,000 shp (33,556 kW)
Range: 7,800 nautical miles (14,446 kilometers) at 18 knots (33.34 km/h)
Speed: 32 knots (59.26 km/h)
Sensor Suite:

OPS-1 L-Band 3D Air Search RDF
OPS-5 C-Band 2D Surface Search RDF
Type 275 Fire Control RDF
OQS-1 Hull mounted ASDIC
OQA-1A/B Variable Depth ASDIC

Countermeasures:

NOLR-1 Electronic Support Measures

Armament:

3 x QF 4.5"/45-caliber Mk.5 dual purpose naval guns (3x1)
4 x QF 3"/70-caliber Mk.N1 naval guns (2x2)
2 x Hedgehog ASW mortors
2 x 21" triple torpedo tubes (fires Type 95 Mod 1 torpedoes)
2 x K-gun depth charge throwers
Unit Run
[
]
RJS Akizuki (DD-161)
RJS Teruzuki (DD-162)