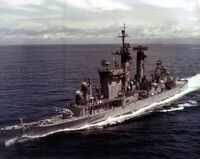 The Albany-class guided missile cruisers were converted Baltimore-class heavy cruisers of the American People's Navy. All original superstructure and weapons were removed and replaced. The converted ships had new very high superstructures and relied heavily on aluminum to save weight.
Type: Guided Missile Cruiser
Service Period: 1962-1983
Characteristics:

Length: 674 feet (205.44 meters)
Beam: 70 feet (21.34 meters)
Draft: 30 feet (9.14 meters)
Displacement: 13,700 tons (Standard); 17,500 (Full Load)

Crew: 1,222 (72 officers and 1,150 enlisted)
Propulsion: 4 x Babock & Wilcox boilers, 4 x General Electric geared turbines, 4 x shafts, 120,000 shp
Speed: 32 knots (59.26 km/h)
Sensor Suite:

AN/SPS-48 3D air search radar
AN/SPS-43 2D air search radar
AN/SPS-30 surface search radar
AN/SPS-10 surface search radar
AN/SPG-49 fire control radar for Talos
AN/SPG-51 fire control radar for Tartar
AN/SQS-23 bow mounted sonar

Armament:

2 x Mk.16 5"/54-caliber dual purpose naval guns
2 x Mk.12 SAM Launchers (fires RIM-8 Talos SAMs)
2 x Mk.11 SAM Launchers (fires RIM-24 Tartar SAMs)
1 x Mk.112 ASROC octuplet launcher
2 x Mk.32 12.75" triple fire torpedo tubes
APNS Albany (CG-10) - former APNS Albany (CA-72)
APNS Chicago (CG-11) - former APNS Chicago (CA-135)
APNS Columbus (CG-12) - former APNS Columbus (CA-74)
APNS Superior (CG-13) - former APNS Superior (CA-73)
APNS Bremerton (CG-14) - former APNS Bremerton (CA-130)
APNS Fall River (CG-15) - former APNS Fall River (CA-131)
Community content is available under
CC-BY-SA
unless otherwise noted.