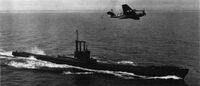 The Amphion-class (also known as the "A"-class and Acheron-class) of British diesel-electric submarines were designed for use in the Pacific War. Only two were completed before the end of hostilities, but following modernisation in the 1950s, they continued to serve in the Royal Navy into the 1970s.
HMS Amphion
HMS Astute
HMS Astute
HMS Auriga
HMS Aurochs
HMS Alcide - transferred to Italy in 1972, renamed RM Primo Longobardo (S501)
HMS Alderney
HMS Alliance - now at Royal Navy Submarine Museum, Gosport
HMS Ambush
HMS Anchorite
HMS Andrew
HMS Affray
HMS Aeneas
HMS Alaric
HMS Artemis
HMS Artful
HMS Acheron - transferred to Italy in 1972, renamed RM Gianfranco Gazzana Priaroggia (S502)
HMS Ace
HMS Achates
HMS Andromache
HMS Answer
HMS Antagonist
HMS Antaeus
HMS Anzac
HMS Aphrodite
HMS Approach
HMS Arcadian
HMS Ardent
HMS Argosy
HMS Atlantis
HMS Admirable
HMS Asperity
HMS Austere
HMS Adversary
HMS Awake
HMS Aztec
HMS Abelard
HMS Acasta
HMS Agate
HMS Aggressor
HMS Agile
HMS Aladdin
HMS Alcestis
HMS Asgard
HMS Assurance
HMS Astarte
Community content is available under
CC-BY-SA
unless otherwise noted.