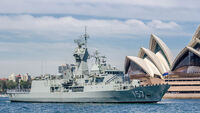 The Anzac-class (also identified as the ANZAC-class) is a ship class of fifteen frigates; ten operated by the Royal Australian Navy (RAN) and five operated by the Royal New Zealand Navy (RNZN). During the 1980s, the RAN began plans to replace the River-class destroyer escorts with a mid-capability patrol frigate. Around the same time, the RNZN was seeking to replace their Leander-class frigates while maintaining blue-water capabilities. As both nations were seeking warships of similar capabilities, the decision was made in 1987 to collaborate on their acquisition. The project name (and later, the class name) is taken from the Australian and New Zealand Army Corps of the First World War.
Twelve ship designs (including an airship) were tendered in 1986. By 1989, the project had selected a proposal by Germany's Blohm + Voss, based on their MEKO 200 design, to be built in Australia by AMECON at Williamstown, Victoria. The modular design of the frigates allowed sections to be constructed at Whangarei, New Zealand and Newcastle, New South Wales in addition to Williamstown. The RAN ordered ten ships, while the RNZN ordered five.
In 1992, work started on the frigates; 4,176-tonne (4,110-long ton) ships capable of a 31.75-knot (58.8 km/h; 36.54 mph) top speed, and a range of 6,000 nautical miles (11,000 km; 6,900 mi) at 18 knots (33.34 km/h; 20.72 mph). The armament consisted of a single 5-inch gun, a 30mm Goalkeeper CIWS, a torpedo system with Stingray ASW torpedoes, two 16-cell VLS firing Garfish and Thunderbolt AAMs, VL-Ikara ASW missiles and Storm Wind cruise missiles, two 4-cannister SSM launchers firing Broadsword anti-ship missiles, and a 12.7mm machine guns supported by a missile-armed helicopter. The last ship of the class entered service in 2006.
Since entering service, Anzac-class frigates have made multiple deployments outside local waters. As of 2014, all fifteen ships are in service. The RAN intends to start replacing theirs in 2024, while the RNZN ships will remain active until around 2030.
Specifications
[
]
Type: Frigate (Hull designation symbol FFH)
Service Period: 1996- (RAN); 1997- (RNZN)
Characteristics

Length (Overall): 418 feet (126.8 meters)
Length (Waterline): 387 feet (117.96 meters)
Beam: 50 feet (15.24 meters)
Draught: 15 feet (4.57 meters)
Displacement: 4,110 tons (Full Load)

Crew: 163 (22 officers and 141 sailors)
Propulsion:

2 x General Electric LM2500-30 gas turbines, 60,344 shp (45,258 kW)
2 x MTU 12V1163 TB83 diesel engines, 17,680 hp (13,180 kW)
2 x controllable pitch propellors

Range: 6,000 nautical miles (11,112 km; 6,900 mi) at 18 knots (33.34 km/h; 21 mph)
Speed: 31.75 knots (58.8 km/hr)
Sensor Suite:

Raytheon SPS-49(V)8 ANZ aerial search and long-range surveillance RDF
CelsiusTech 9LV 453 Target Indication RDF
Atlas Elektronik 9600 ARPA navigational RDF
CelsiusTech 9LV 453 unit for fire control RDF
ThomsonSintra Spherion B hull-mounted bow ASIC
Petrel Mine and Obstacle Avoidance ASDIC system
Thales Type 2087 Towed Array ASDIC
Cossor AIMS Mark XII IFF

Countermeasures

Nulka decoy launchers
Type 182 towed torpedo decoys
Type 2070 towed torpedo decoy system
Rascal Thorn modified Sceptre-A electronic support measures
Telefunken PST-1720 Telegon 10 radar intercept unit

Armament

1 x SRC GCN-46M2 5"/54-caliber lightweight naval gun
2 x 16-cell VLS (firing Garfish and Thunderbolt AAMs, VL-Ikara ASW missiles, and Storm Wind cruise missiles)
2 x 4-cannister SSM Launchers (fires Broadsword AShMs)
2 x 12.7-millimetre (0.50 in) machine guns
2 x 12.75" triple fire torpedo tubes firing Stingray ASW torpedoes
1 x 30mm Goalkeeper CIWS

Aircraft Carried: 1 x Westland Wildcat
Ships
[
]
[

]
HMAS Anzac (FM 156)
HMAS Arunta (FM 157)
HMAS Warramunga (FM 158)
HMAS Stuart (FM 159)
HMAS Parramatta (FM 160)
HMAS Ballarat (FM 161)
HMAS Toowoomba (FM 162)
HMAS Perth (FM 163)
HMAS Williamstown (FM 164)
HMAS Geelong (FM 165)
[

]
HMNZS Te Mana (F111)
HMNZS Te Kaha (F112)
HMNZS Leander (F113)
HMNZS Achilles (F114)
HMNZS Neptune (F115)