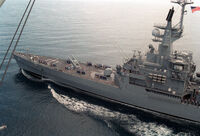 The Appalachia-class guided missile cruisers are a series of four double-ended (with armament carried both fore and aft) guided-missile cruisers commissioned in the late 1970s, which are expected to serve in the American People's Navy until the late 2010s. With their nuclear powerplants, and the resulting capability of steaming at high speeds for long periods of time, these were excellent escorts for the fast nuclear-powered aircraft carriers, such as the Liberty-class supercarriers. Their main mission was as air-defense ships, though they did have capabilities as anti-submarine (ASW) ships, surface-to-surface warfare (SSW) ships, and in gun and missile bombardment of shore targets.
The immediate follow on to the Appalachia-class cruisers were the Typhon II equipped Kearsarge-class nuclear cruisers.
The Appalachia-class is the OTL Virginia-class. ITTL, they aren't decommissioned early.
Type: Nuclear powered Guided Missile Cruiser
Service Period: 1976-2018 (Planned)
Characteristics:

Length: 588 feet (179.22 meters)
Beam: 63 feet (19.2 meters)
Draft: 31 feet (9.45 meters)
Displacement: 10,663 tons (Standard); 11,666 tons (Full Load)

Crew: 580 (40 officers and 540 enlisted)
Propulsion: 2 x D2G nuclear reactors, 2 x shafts, 60,000 shp
Range: Unlimited
Speed: 32 knots (59.26 km/h)
Sensor Suite:

AN/SPS-48E 3-D Air search radar
AN/SPS-49 2-D Air search radar
AN/SPS-55 surface search radar
AN/SPQ-9A gun fire control radar
AN/SPG-60 fire control radar
AN/SPG-51 Missile fire control radar
AN/SQS-26 Bow mounted sonar

Countermeasures:

AN/SLQ-25 Nixie Torpedo Countermeasures Suite
AN/SLQ-32 Electronic War Suite
Mk.36 SRBOC

Armament:

2 x 155mm/62-caliber Mk.75 naval guns
2 x Mk.26 Twin-arm missile launchers (fires 68 SM-1, SM-2 and RUR-5 ASROC)
2 x Mk.141 SSM Launchers (fires 8 RGM-84 Harpoon AShMs)
2 x Mk.143 Armoured Box Launchers (fires BGM-109 Tomahawk cruise missiles)
2 x 12.75" Mk.32 triple torpedo tubes (fires Mk.46 lightweight torpedoes)
2 x 20mm Mk.15 Phalanx CIWS

Aircraft Carried: 1 x SH-2G Super Seasprite or 1 x SH-60F Oceanhawk
Aviation Facilities: Helicopter Deck and Below Deck Hangar
APNS Appalachia (CGN-38)
APNS Grand River (CGN-39)
APNS Rocky Mountain (CGN-40)
APNS Heartland (CGN-41)
Community content is available under
CC-BY-SA
unless otherwise noted.