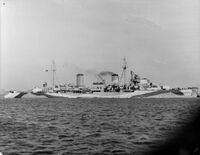 The Arethusa-class was a class of six light cruisers built for the Royal Navy between 1933 and 1937 and that served in World War II. The Arethusa-class was followed up with the 9,100 ton Town-class light cruisers.
Two Arethusa-class light cruisers were built for the Royal Canadian Navy and entered service in 1937. In 1948 the Republic of China purchased the HMS Aurora and renamed it the ROCS Chung King.
Type: Light Cruiser
Service Period: 1934-19XX
Characteristics:

Length: 506 feet (154.23 meters)
Beam: 51 feet (15.55 meters)
Draft: 16 feet 6 inches (5.03 meters)
Displacement: 5,220 tons (Standard); 6,715 tons (Full Load)

Crew: 500
Fuel: 1,325 tons of fuel
Propulsion: 4 x Parsons geared steam turbines, 4 x Admiralty 3-drum boilers, 4 x shafts, 64,000 shp (48,000 kW)
Range: 5,300 nautical miles (9,815.6 km) at 13 knots (24.08 km/h)
Speed: 32.25 knots (59.23 km/h)
Armament

6 x BL 6"/50-caliber Mk.XXIII naval guns on twin mounts
8 x QF 4"/45-caliber Mk.XVI naval guns on twin mounts
8 x 0.5"-caliber Mk.III Vickers machine guns on quad mounts
6 x 21" torpedo tubes

Armour

3" magazine box protection
2.25" belt armour
1" on decks, turrets, and bulkheads
HMS Arethusa (C26)
HMS Galatea (C71)
HMS Aurora (C12) - sold to Republic of China, renamed ROCS Chung King
HMS Penelope (C97)
HMS Minotaur (C41)
HMS Polyphemus (C77)
HMCS Sedna (C64)
HMCS Aulanerk (C65)
Community content is available under
CC-BY-SA
unless otherwise noted.