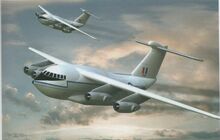 The Armstrong Whitworth AW.681 Aberdeen is a British long-range STOL military transport aircraft built by Armstrong Whitworth. The aircraft first flew on October 19, 1968 and entered service with the Royal Air Force in 1970.
The Aberdeen features a swept shoulder-mounted wing and a high T-tail. The rear fuselage is upswept with loading doors and a ramp. The aircraft is powered by four Rolls-Royce RB.142 Medway engines with vectored thrust nozzles mounted on pylons under the wings with boundary layer control with blown flaps, leading edges, and ailerons.
Community content is available under
CC-BY-SA
unless otherwise noted.