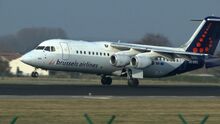 The Avro RJ Whisperjet is a short-haul and regional airliner that was developed and manufactured in the United Kingdom by Avro.
Avro began designing the RJ in the late 1970s to fill the gap between turboprop airliners like theAvro 748 and Fokker F27 and small jet airliners like the Hunting 1-11 and Sud Aviation SE210 Caravelle. The first flight of the RJ was on Septemeber 3, 1981, and it entered service with Dan-Air in May 1983. A further-improved version with new engines, the Avro RJX, was announced in 1997 and entered service in 2000. Falling demand and increasing competition from the Canadair CRJ, Dornier 728, and Embraer E-Jet eventually led to Avro ceasing production in 2010, with the last RJ-an RJ115-going to Cobham Aviation. Total sales numbered 510 aircraft.
The Avro RJ is a high-wing cantilever monoplane with a T-tail. It has four turbofan engines mounted on pylons underneath the wings, and has retractable tricycle landing gear. The aircraft has very quiet operation, leading to the nickname "Whisperjet". The RJ was offered in four variants, with capacity ranging between 70-128 passengers depending on seating configuration. It sees wide usage at small city-based airports such as London City Airport. In its primary role it serves as a regional jet, short-haul airliner or regional airliner. The Avro RJ is in wide use with several European-based airlines, such as Brussels Airlines, CityJet and Swiss Global Air Lines. It is also widely used for passenger services in Australia.
Community content is available under
CC-BY-SA
unless otherwise noted.