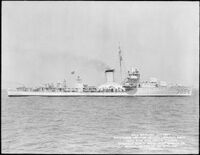 The Bagley-class destroyers were built by the Union of American People's Republics. All eight ships were ordered and laid down in 1935 and subsequently completed in 1937. Their layout was based upon the Gridley-class destroyer design, but they retained the power plants of the Mahan-class destroyers, and thus had a lesser speed than the Gridleys. The Bagley-class destroyers were readily distinguished visually by the external trunking of their boiler uptakes around their single stack.
All eight Bagley-class destroyers were present at the Attack on Pearl Harbor on February 27th, 1942, comprising Destroyer Squadron Four. They all served in the Pacific during World War II, with Jarvis, Blue, and Henley lost in combat. In 1944 Mugford suffered extensive damage from a kamikaze hit that put her out of combat for six months.
The remaining four Bagley-class ships operated as Destroyer Squadron Six, with Ralph Talbot receiving a kamikaze hit off Okinawa. Bagley accepted the surrender of Japanese forces on Marcus Island.
Bagley, Helm, and Patterson were decommissioned in 1945 and scrapped in 1947. Mugford and Ralph Talbot, still in commission, were targets during the Operation Crossroads atomic bomb tests at Bikini atoll in 1946. Contaminated by radiation, they were scuttled off Kwajalein in 1948.
Specifications
[
]
Type: Destroyer
Service Period: 1937-1946
Characteristics:

Length: 341 feet 8 inches (104.14 meters)
Beam: 35 feet 6 inches (10.82 meters)
Draught (Light): 10 feet 4 inches (3.15 meters)
Draught (Full Load): 12 feet 10 inches (3.92 meters)
Displacement: 1,500 tons (Standard); 2,325 tons (Full Load)

Crew: 251
Propulsion: 4 x boilers, 2 x geared steam turbines, 2 x propellers, 49,000 shp (37,000 kW)
Range: 6,500 nautical miles (12,038 kilometers) at 12 knots (22.22 km/h)
Speed: 38.5 knots (71.3 km/h)
Armament:

4 × 5"/38-caliber dual purpose naval guns
4 × .50-caliber machine guns
16 × 21" torpedo tubes
2 × depth charge tracks
Unit Run
[
]
APNS Bagley (DD-386)
APNS Blue (DD-387)
APNS Helm (DD-388)
APNS Mugford (DD-389)
APNS Ralph Talbot (DD-390)
APNS Henley (DD-391)
APNS Patterson (DD-392)
APNS Jarvis (DD-393)