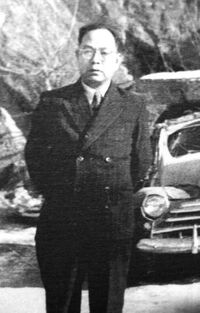 Bak Heonyeong (Hangul: 박헌영, Hanja: 朴憲永; May 29th, 1900 – December 5th, 1982) was a Korean independence activist, politician, philosopher and Communist activist. One of the main leaders of the Korean communist movement during Japan's colonial rule (1910–45), Bak became the first Premier of Korea following World War II. His nickname was Ijung (이정) and Ichun (이춘), courtesy name was Deokyeong (덕영).
During the Japanese occupation of Korea, he tried to organize the Korean Communist Party. However, when the Japanese authorities cracked down on the party, he went into hiding. After Korea's liberation, August 1945, he reestablished the party. In a vote supervised by American occupying forces, the Korean Communist Party won a majority of votes, and Bak Heonyeong was elected as Premier.
Bak died of a heart attack in 1982 at the age of 82.
Community content is available under
CC-BY-SA
unless otherwise noted.