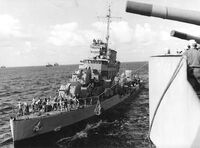 The Benham-class destroyers were commissioned into American People's Navy during 1938 and 1939. Much of their design is based upon the previous Gridley- and Bagley-class destroyers. Two of the class were lost during World War II, three would be scrapped in 1947, while the remaining five ships would be scuttled after being contaminated from the atomic bomb tests in the Pacific.
Type: Destroyer
Service Period: 1939-1946
Characteristics:

Length: 340 feet 9 inches (103.86 meters)
Beam: 35 feet 6 inches (10.82 meters)
Draught: 13 feet 3 inches (4.04 meters)
Displacement: 1,500 tons (Standard); 2,350 tons (Full Load)

Crew: 206 (13 officers and 393 enlisted)
Propulsion: 4 x 400 psi, 645° F boilers, 2 x geared turbines, 2 shafts, 50,000 shp (37.5 MW)
Range: 7,800 nautical miles (14,446 kilometers) at 12 knots (22.22 km/h)
Speed: 36.5 knots (67.6 km/h)
Armament:

4 x 5"/38-caliber Mk.12 dual purpose naval guns (4x1)
16 x 21" torpedo tubes (4x4)
8 x Bofors 40mm anti-aircraft guns (4x2)
8 x Oerlikon 20mm anti-aircraft cannons (4x2)
4 x .50-caliber machine guns (4x1)
APNS Benham (DD-397)
APNS Ellet (DD-398)
APNS Lang (DD-399)
APNS Mayrant (DD-402)
APNS Trippe (DD-403)
APNS Rhind (DD-404)
APNS Rowan (DD-405)
APNS Stack (DD-406)
APNS Sterett (DD-407)
APNS Wilson (DD-408)
Community content is available under
CC-BY-SA
unless otherwise noted.