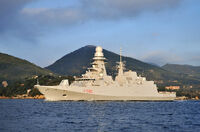 The Bergamini-class multirole frigates are a class of multipurpose frigates that are planned for service in the early 2010s onwards. The Regia Marina currently plans to have eighteen of them to replace their older frigates currently in service.
Type: Multipurpose Frigate
Service Period: 2013-
Characteristics:

Length: 474 feet (144.48 meters)
Beam: 65 feet (19.81 meters)
Draught: 16 feet (4.88 meters)
Displacement: 6,792 tons (Full Load)

Crew: 200
Propulsion: 2 GE/Avio LM2500 Gas Turbine Engines 20.5 MW each, 2 SEMT Pielstick 12 PA6 STC Diesel Engines 4.32 MW each, 2 Variable pitch propellers, 1 Bow thruster
Range: 6,700 nautical miles (12,408 kilometers) at 15 knots (27.78 km/h)
Speed: 29 knots (53.71 km/h)
Sensor Suite:

Selex ES EMPAR active RDF
Selex ES RASS (RAN-30X-I) surface RDF
Selex ES SPN-730 LPI navigation RDF
GEM-Elettronica MM/SPN-753 navigation RDF x 2
Selex ES Athena combat system
Selex ES SAAM-ESD extended area AAW combat system
Selex ES IRST SASS
Selex ES NA-25 DARDO-F fire control system x 2
SOFRESUD Quick Pointing Devices x 2
Thales UMS 4249 CAPTAS4 towed ASDIC
Thales UMS 4410 CL hull ASDIC
WASS SNA-2000-I mine avoidance ASDIC
L-3 ELAC Nautik SeaBeam 3050 multi-beam echo sounder

Countermeasures
Armament

1 x Otobreda 127mm/L64 naval gun (with VULCANO ammunition) and 1 x 76mm/L62 Super Rapid naval gun (with Davide/Strales guided ammuntion) - on GP version
2 x Otobreda 76mm/L62 Super Rapid naval gun (with Davide/Strales guided-ammunition) - on ASW version
1 x 16-cell SYLVER A50 VLS (fires Aster 15 and Aster 30 SAMs)
1 x 16-cell SYLVER A70 VLS (fires SCALP cruise missiles)
2 x OTO Melara SCLAR-H DLS Multipurpose Rocket Launchers
2 x OTO Melara/Oerlikon 25mm/L80 remote weapon system
2 x 12.75" triple fire torpedo tubes (fires Eurotorp MU90 Impact torpedoes)
MILAS ASW Missiles
RM Carlo Bergamini (F590)
RM Virginio Fasan (F591)
RM Carlo Margottini (F592)
RM Vittorio Cuniberti (F593)
RM Giuseppe Aonzo (F594)
RM Luigi Rizzo (F595)
RM Raffaele Rossetti (F596)
RM Vittorio Cuniberti (F597)
RM Enrico Millo (F598)
RM Teseo Tesei (F599)
RM Francesco Caracciolo (F600)
RM Cristoforo Colombo (F601)
RM Giulio Cesare (F602)
RM Francesco Morosini (F603)
RM Bruno Branciforte (F604)
RM Inigo Campioni (F605)
RM Alberto Da Zara (F606)
RM Domenico Cavagnari (F607)
Community content is available under
CC-BY-SA
unless otherwise noted.