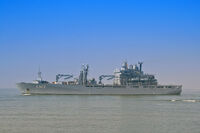 The Type 702 Berlin-class replenishment ship is a series of multi-product replenishment oilers, originally designed and built for service in the Bundesmarine (Federal Navy).
The Berlin-class replenishment ships are the largest vessels of the Bundesmarine. In German, this type of ship is called Einsatzgruppenversorger which can be translated as task force supplier though the official translation in English is combat support ship, or in military parlance, a replenishment oiler.
They are intended to support German naval units away from their home ports. The ships carry fuel, provisions, ammunition and other matériel and also provide medical services. The ships are named after German cities where German parliaments were placed.
Type: Replenishment Vessel
Service Period: 2001-Present
Characteristics

Length: 569 feet 11 inches (173.71 meters)
Beam: 78 feet 9 inches (24 meters)
Height: 57 feet 5 inches (17.5 meters)
Draft: 24 feet 11 inches (7.6 meters)
Displacement: 19,920 tons

Capacity: 9,183 tons of fuel oil, aviation fuel and fresh water
Cargo Space: 542 tons of mixed cargo
Crew: 233
Propulsion: 2 × MAN Diesel 12V 32/40 diesel-engines, 5,340 kW each; 2 reduction gears, 2 controllable pitch four-bladed propellers, 1 bow thruster
Speed: 20 knots (37.04 km/hr)
Armament

2 x Mauser MLG-27 27mm autocannons
Starsteak SAMs

Aircraft Carried: 2 x AW101 Merlins or 2 x NH-90s
BMS Berlin (A1411)
BMS Hamburg (A1412)
BMS Essen (A1413)
BMS Bremen (A1414)
BMS Lübeck (A1415)
BMS Kessel (A1416)
Community content is available under
CC-BY-SA
unless otherwise noted.