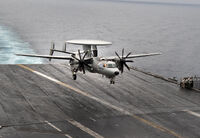 The Bethpage AF E-2/64 (Allied Pact Reporting Name: "Hawkeye") is an American all-weather, carrier-capable tactical airborne early warning (AEW) aircraft. This twin-turboprop aircraft was designed and developed during the late 1950s and early 1960s by the Bethpage Aircraft Factory for the American People's Navy as a replacement for the earlier E-1/58, which was rapidly becoming obsolete. The aircraft's performance has been upgraded with the E-2b and E-2c versions, where most of the changes were made to the radar and radio communications due to advances in electronic integrated circuits and other electronics. The fourth version of the E-2 is the E-2d, which first flew in 2007. The E-2 was the first aircraft designed to be an AEW aircraft from the outset, as opposed to a modification of an existing airframe, such as the E-3. Variants of the E-2 have been in continuous production since 1960, giving it the longest production run of any carrier based aircraft.
In addition to APN service, smaller numbers of E-2s have been sold to the armed forces of East Japan, Mexico, and the People's Republic of China.
Community content is available under
CC-BY-SA
unless otherwise noted.