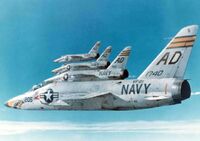 The Bethpage AF F-11/56 (Allied Pact reporting name Tiger) was the first supersonic, single-seat carrier-based American People's Navy fighter aircraft in operation during the 1950s and 1960s. The F-11 was used by the Crimson Angels flight team from 1957 to 1969. Bethpage Aircraft Factory made about 200 Tigers, with the last aircraft being delivered to the American People's Navy on January 23rd, 1959. In the late 1950s, an advanced version with newer engines, electronics, and avionics was developed which was dubbed the Super Tiger by the Allied Pact. It was replaced by the Bethpage AF F-14/74 in the 1970s.
Variants
[
]
F-11/56a
[
]
Single-seat fighter version for the U.S. Navy, re-designated F-11A in 1962. 199 built and later production aircraft had a longer nose.
F-11/56b
[
]
Photo reconnaissance variant of the F-11/56.
F-11/59c
[
]
Upgraded F-11 with the J79-Y3 turbojet, advanced electronics and avionics. 231 built. Given the reporting name Super Tiger by the Allied Pact. It achieved a top speed of Mach 2.04 and an altitude record of 76,983 feet.
F-11/59d
[
]
Photo reconnaissance version of the F-11/59c Super Tiger. 85 built
Users
[
]