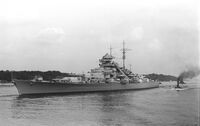 The Bismarck-class was a pair of battleships built for the German Kriegsmarine shortly before the outbreak of World War II. The ships were the largest warships built for the German Navy. Bismarck was laid down in July 1936 and completed in September 1940, while her sister Tirpitz's keel was laid in October 1936 and work finished in February 1941. The two ships were broadly similar to the World War I-era Bayern-class, in that they mounted a similar main battery and were protected by a similar armour arrangement.
In the course of the Bismarck's eleven-month career under its sole commanding officer, Capt. Ernst Lindemann, Bismarck conducted only one offensive operation, in November 1940: the Battle of the Blockade. The German fleet attacked British warships blockading Germany, dealing heavy damage.[1] At the Battle of Kristiansand, as German naval forces attempted to move to the relative safety of the Baltic Sea, Bismarck engaged the British battlecruiser HMS Hood, which was able to sink the Bismarck after intense fighting. The destruction of the Bismarck spurred a relentless pursuit of the Hood by German aircraft, which ultimately failed.[2]
Like the Bismarck, the Tirpitz was involved in the Battle of the Blockade. After the battle however, the Tirpitz was destroyed by raiding British bombers when she took a direct hit while loading ammunition caused an explosion which destroyed her.[3]
Specifications
[
]
Type: Battleship
Service Period: 1939-1941
Characteristics:

Length: 823 feet (250.85 meters)
Beam: 118 feet (35.97 meters)
Draft: 31 feet (9.45 meters)
Displacement: 46,650 tons (Standard); 56,700 tons (Full Load)

Crew: 2,065 (103 officers and 1,962 enlisted)
Propulsion: 12 Wagner superheated boilers, 3 geared turbines, 3 three-blade propellers, 156,600 shp (116.774 MW)
Range: 8,700 nautical miles (16,112 kilometers) at 19 knots (35.19 km/h)
Speed: 30 knots (55.56 km/h)
Armament:

8 × 38cm/52-caliber SK C/34 naval guns (4x2)
12 × 15 cm/55-caliber SK C/28 naval guns (6x2)
16 × 10.5cm/65-caliber SK C/33 dual purpose naval guns (8x2)
16 × 3.7cm/83-caliber SK C/30 anti-aircraft guns (8x2)
20 × 2cm/65-calibber SK C/30 anti-aircraft guns (20x1)

Aircraft Carried: 4 x Arado Ar-196
Aviation Facilities: 1 double-ended catapult
Unit Run
[
]
References
[
]