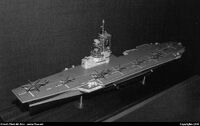 The Bretagne class is a type of nuclear powered amphibious assault ship in the Marine Nationale from the 1980s onwards. Like the helicopter cruiser Jeanne d'Arc, she would be able to assume the ASW role as an alternative to that of amphibious assault, and was also designed for disaster relief. She was, therefore, given extensive hospital facilities consisting of three main wards, an X-Ray ward, an intensive care ward, an infectious diseases ward, two dental surgeries and a laboratory.
In the intervention role she would carry a special landing force of units from the Forces Terrestres d'Intervenntion (FTI) and their supporting air units (CAFI), plus a Helicopter Movement Command Centre. 1000 troops could be accommodated in designated quarters, with a further 500 in supplementary spaces in the hangar.
The ship would embark Super Frelon and Lynx helicopters in the ASW role, or Puma helicopters for the assault mission. Hangar dimensions were 84m x 21m x 6.5m and there were two side lifts each with a capacity of 15t. There was one fixed and one mobile crane, and extensive helicopter support facilities including workshops, munitions-handling rooms, magazines, and fuel tanks for 1000m3 of aviation fuel.
PH 75 was fitted as a command ship, with an action information centre, a communications centre, an ASW centre and an amphibious operations centre. She would carry 1250t of FFO for refuelling escorting warships. As with other French nuclear-powered vessels there were emergency diesel propulsion units capable of powering the ship for 3000nm at 18kts.
Specifications
[
]
Type: Amphibious Assault Ship
Service Period: 1982-
Characteristics:

Length: 682 feet (207.87 meters)
Beam (Flight Deck): 157 feet (47.85 meters)
Beam (Waterline): 87 feet (26.52 meters)
Draft: 21 feet (6.4 meters)
Displacement: 16,400 tons standard, 18,400 tons full load

Crew: 890 (+ 1,000 troops)
Propulsion: 1 CAS-230 reactor, 2 turbo-reduction-condenser groups, 2 shafts, 65,000shp, 2 AGO standby diesels
Range: Unlimited on reactor, 3000 nautical miles at 18 knots on backup diesels
Speed: 28 knots (51.86 km/h)
Sensor Suite:

DRBV-26 Radar
DRBC-32 Radar
DRBV-51 Radar
DUBA-25 Sonar

Armament:

2 x Crotale SAM (2x8)
2 x 100mm (2xl)
2 x Sagaie

Aircraft Carried: 10-25 helicopters
Unit Run
[
]