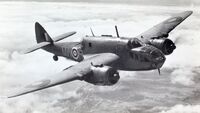 The Bristol Beaufort (manufacturer designation Type 152) was a British twin-engined torpedo bomber designed by the Bristol Aeroplane Company, and developed from experience gained designing and building the earlier Blenheim light bomber.
Beauforts first saw service with Royal Air Force Coastal Command and then the Royal Navy Fleet Air Arm from 1940. They were used as torpedo bombers, conventional bombers and mine-layers until 1942, when they were removed from active service and were then used as trainer aircraft until being declared obsolete in 1945. Beauforts also saw considerable action in the Mediterranean; Beaufort squadrons based in Egypt and on Malta helped put an end to Axis shipping supplying Rommel's Deutsches Afrikakorps in North Africa.
Beauforts saw their most extensive use with the Royal Australian Air Force in the Pacific theatre, where they were used until the very end of the war. With the exception of six examples delivered from the United Kingdom, Australian Beauforts were locally produced under license.
Although designed as a torpedo-bomber, the Beaufort more often flew as a level-bomber. The Beaufort also flew more hours in training than on operational missions, and more were lost through accidents and mechanical failures than were lost to enemy fire. However, the Beaufort did spawn a long-range heavy fighter variant called the Beaufighter, which proved to be very successful and many Beaufort units eventually converted to the Beaufighter.
Users
[
]