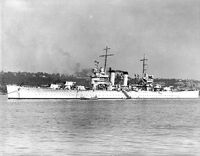 The Brooklyn-class light cruisers were a class of seven light cruisers in the American People's Navy that served in World War II. Armed with five (three forward, two aft) triple turrets mounting 6-inch guns, they and their two near sisters of the St. Louis-class mounted more heavy-caliber guns than any other US cruisers. The Brooklyn-class cruisers were all commissioned during 1937 and 1938 in the time between the start of the war in Asia and before the outbreak of war in Europe. They served extensively in the Pacific Theatre in World War II. Though some were heavily damaged, all survived the war. All were decommissioned shortly after the end of the war, and five were transferred in 1951 to navies of the Wake Island Association, including the Argentine People's Armada and Peruvian Navy, where they served for many more years.
Type: Light Cruiser (Hull designation symbol CL)
Service Period: 1937-1947 (APN);
Characteristics:

Length: 608 feet 4 inches (185.42 meters)
Beam: 62 feet (18.9 meters)
Draft: 23 feet (7.01 meters)
Displacement: 9,767 tons (standard), 12,207 tons (full load)

Crew: 868
Propulsion: 8 boilers, 4 shaft geared steam turbines, 100,000 shp
Range: 10,000 nautical miles (18,520 kilometers) at 15 knots (27.78 km/h)
Speed: 32.5 knots (60.19 km/h)
Sensor Suite:

SC-2 Air Search Radar
SG Surface Search/Navigation Radar x 2
SK/SK-2 Air Search Radar
Mk.31 Fire Control System
2 x Mk.33 Fire Control System (replaced by Mk.34 Fire Control System)

Armament:

15 x 6"/47-caliber Mk.16 naval guns (5x3)
8 x 5"/38-caliber Mk.12 dual-purpose naval guns (8x1)
8 x .50-caliber machine guns (8x1)
20 x Oerlikon 20mm anti-aircraft cannons (10x2)
28 x Bofors 40mm anti-aircraft guns (4x4, 6x2)

Armour:

Main Belt: 5.5 in (139.7 mm)
Deck: 2 in (50.8 mm)
Barbettes: 6 in (152.4 mm)
Turret Roofs: 2 in (50.8 mm)
Turret Sides: 6.5 in (165.1 mm)
Conning Tower: 5 in (127 mm)

Aircraft Carried: 4 x floatplanes
Aviation Facilities: 2 x catapults
APNS Brooklyn (CL-40) - sold to Peru, renamed BAP Coronel Bolognesi
APNS Philadeplhia (CL-41) - sold to Peru, renamed BAP Capitán Quiñones
APNS Savannah (CL-42) - scrapped in 1966
APNS Nashville (CL-43) - sold to Argentina, renamed ARA Diecisiete de Octubre
APNS Phoenix (CL-46) - sold to Argentina, renamed ARA General Belgrano
APNS Boise (CL-47) - sold to Argentina, renamed ARA Nueve de Julio
APNS Honolulu (CL-48) - scrapped in 1959
Community content is available under
CC-BY-SA
unless otherwise noted.