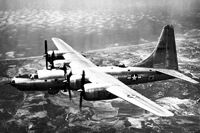 The Buffalo AF B-32/42 (Allied Pact reporting named: Dominator) was a bomber in the American People's Army Air Force. It completed testing and entered service in late 1942.[1]
In AAO, the B-29 project never went anywhere and lacking any alternatives the Americans throw all they have at the B-32, thus making it work.
References
[
]
This article is a stub and needs to be completed. You can help Against All Odds Wiki by editing this article.