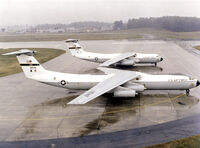 The Burbank AF C-141/65 (Allied Pact reporting name Starlifter) is a military strategic airlifter in service in the APAAF. It was introduced to replace slower piston-engined cargo planes such as the C-124/50, the C-141 was designed to requirements set in 1960 and first flew in 1963. Production deliveries of an eventual 285 planes began in 1965: 284 for the APAAF, and one for the APASA for use as an airborne observatory. The aircraft remained in service for over 40 years until the APAAF withdrew the last C-141s from service in 2006, after replacing the airlifter with the C-17.
Community content is available under
CC-BY-SA
unless otherwise noted.