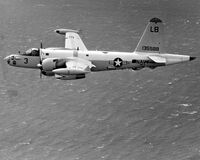 The Burbank AF P-2/47 (Allied Pact reporting name Neptune) was a Maritime patrol and ASW aircraft. It was developed for the American People's Navy to replaced the Burbank AF P-1/40, and being replaced in turn with the Long Beach AF P-3/62. Designed as a land-based aircraft, the Neptune never made a carrier landing, although a small number of aircraft were converted and deployed as carrier launched stop-gap nuclear bombers which would have to ditch or recover at land bases. The type was successful in export and saw service with several armed forces.
Community content is available under
CC-BY-SA
unless otherwise noted.