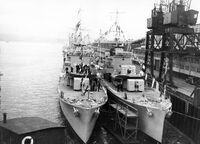 The C/D-class was a group of 26 destroyers built for the Royal Navy and Royal Canadian Navy in the early 1930s. As in previous years, it was originally intended to order a complete flotilla comprising eight destroyers—plus a flotilla leader as the ninth unit—in each year. However, only four ships—plus a leader—were ordered under the 1929–30 Programme as the C class. The other four ships planned for the C class were never ordered as an economy measure and disarmament gesture by the Labour government of Ramsay Macdonald. A complete flotilla—the 'D' class—was ordered under the 1930–31 Programme.
Type: Destroyer
Service Period: 1932-1945
Characteristics:

Length: 329 feet (100.28 meters)
Beam: 33 feet (10.06 meters)
Draft: 12 feet 6 inches (3.81 meters)
Displacement: 1,375 tons (Standard); 1,890 tons (Full Load)

Crew: 145
Propulsion: 3 x Admiralty superheated high pressure boilers, 2 x Parsons geared steam turbines, 2 x shafts, 36,000 shp (27,000 kW)
Range: 5,870 nautical miles (10,871 kilometers) at 15 knots (27.78 km/h)
Speed: 36 knots (66.7 km/h)
Sensor Suite:

Type 271 target-indication RDF
Type 286 short-range surface search RDF
HF/DF Radio Direction Finder
Type 124 ASDIC

Armament:

4 x QF 4.7"/45-caliber Mk.IX dual purpose naval guns (4x1)
1 x QF 3"/45-caliber 20 cwt anti-aircraft guns (1x1)
8 x QF.5-inch Vickers machine guns (2x4)
8 x 21" torpedo tubes
20 x depth charges, 1 x rail, 2 x throwers
HMS Comet (H00)
HMS Crusader (H60)
HMS Captain
HMS Kempenfelt (D18/I18) - flotilla leader
HMS Combatant
HMS Cerberus
HMS Cygnet (H83)
HMS Crescent (H48) - Sunk in collision with HMS Calcutta in Gironde estuary on June 25th, 1940.
HMS Cobra
HMS Duncan (D99/I99) - flotilla leader
HMS Defender (H07) - Bombed and sunk on July 11th, 1941.
HMS Daring (H16) - Torpedoed by KMS U-23 on February 18th, 1940.
HMS Diamond (H22) - Bombed and sunk on April 27th, 1941.
HMS Delight (H38) - Bombed and sunk on July 29th, 1940.
HMS Diana (H49) - Sunk in collision with MV Port Fairy on October 22nd, 1940.
HMS Dainty (H53) - Bombed and sunk off Tobruk on February 24th, 1941.
HMS Duchess (H64) - Sunk in collision with HMS Barham on December 12th, 1939.
HMS Decoy (H75)
HMCS Assiniboine (D188)
HMCS Fraser (D189)
HMCS Ottawa (D190)
HMCS Restigouche (D191)
HMCS St. Laurent (D192)
HMCS Kootenay (D193)
HMCS Margaree (D194)
HMCS Liard (D195)
Community content is available under
CC-BY-SA
unless otherwise noted.