We're Getting Mutants in the MCU - The Loop
Play Sound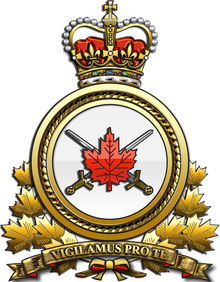 The Canadian Army (French: Armée canadienne) is the branch of the Canadian military responsible for land warfare. It maintains regular forces units at bases across Canada and is the largest branch of the Canadian military. The term "Canadian Army" has been traditionally applied to the land forces of Canada's military from Confederation in 1867 to the present. However, the name Canadian Army was only officially used beginning in 1940.
History
[
]
Prior to Confederation in 1867, the British Army, which included Canadian militia units, defended Canada in wartime. After 1867, a Permanent Active Militia was formed, and in later decades several regular bodies of troops were created, their descendants becoming the Royal Canadian Horse Artillery, the Royal Canadian Dragoons, and the Royal Canadian Regiment. Regular Canadian troops participated in the North West Rebellion in 1885, the South African War (Second Boer War) in 1899, and, in much larger numbers, constituted the Canadian Expeditionary Force in World War I.
In 1940, during World War II, the Permanent Active Militia was renamed the Canadian Army (Active), supplemented by the non-permanent militia, which was named the Canadian Army (Reserve). The Canadian Army forms the largest part of the Allied Pact's forces in Canada, and units are also deployed in smaller numbers to other Allied Pact missions around the world. In the years following the end of World War II in 19??, Canadian troops have participated in a number of military actions with Canada's allies, including the Indonesian Civil War, as well as peacekeeping operations under League of Nations auspices in various parts of the world.
Structure
[
]
Army bases and training centres
[
]
Equipment
[
]
Main article: Equipment of the Canadian Army
Canada is an industrial nation with a highly developed science and technology sector. Since the First World War, Canada has produced its own infantry fighting vehicles, anti-tank guided missiles and small arms for the Army. Regular and reserve units operate state-of-the-art equipment able to handle modern threats through. The Army currently operates utility vehicles including the G-wagon and 7000-MV and armoured fighting vehicles including the LAV-III and the Challenger 2. The Army also operates field artillery pieces including the SLWH Pegasus and the LG1 Mark II. Army infantry has used the L1A1 Self-loading rifle as their basic assault rifle since the 1950s, but beginning in 2014 the C15 Grizzly rifle will be phased in to replace it.
In the near future between 2011 to 2017 (see also the list of Future Canadian military projects), the Army will be upgrading to a new family of armoured fighting vehicles based on the Puma IFV, some of which are already active.