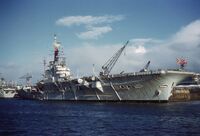 The Centaur-class aircraft carriers of the Royal Navy was the last of the light fleet carrier designs started during the closing years of World War II. The first of four of the class was commissioned in 1953 and the final, decommissioned in 1984. The first three ships lacked an angled flight deck and were therefore unsuitable for fast jet aircraft, and production of a second four carriers in the class were built to a modified design with new developments such as the angled flight deck, mirrored landing aids and steam catapults. The centerline elevators were also removed and replaced by a trio of deck edge elevators (two starboard and one port).
Type: Light Fleet Carrier
Service Period: 1953-2004
Characteristics:

Length: 737 feet 9 inches (224.87 meters)
Beam: 90 feet (27,43 meters)
Draft: 28 feet 6 inches (8.69 meters)
Displacement: 22,000 tons (Standard); 28,700 tons (Full Load)

Crew: 2,100
Propulsion: 4 x boilers, 2 x geared steam turbines, 4 x shafts, 76,000 shp (57,000 kW)
Range: 7,000 nautical miles (12,964 kilometers) at 18 knots (33.34 km/h)
Speed: 28 knots (51.86 km/h)
Sensor Suite:

Type 960/965 Air Warning RDF
Type 982 Air Direction RDF
Type 983 Height Finder RDF
Type 275 Fire Control RDF
Type 974 Navigation RDF

Armament:

32 x Bofors 40mm anti-aircraft guns (6x2, 8x2, 4x1)

Aircraft Carried: 42 aircraft
HMS Centaur (R39)
HMS Albion (R40) - converted to commando carrier
HMS Bulwark (R41) - converted to commando carrier
HMS Elephant (R42) - converted to commando carrier
HMS Arrogant (R43)
HMS Polyphemus (R44)
HMS Hermes (R45) - sold to Spain, renamed ESPS Dedalo (R-01)
HMS Monmouth (R46)
Community content is available under
CC-BY-SA
unless otherwise noted.