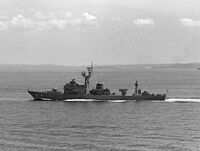 The Chikugo-class destroyer escort (or frigate) of the Republic of Japan Navy is the successor of Isuzu-class, with the same ASW mission. This class was followed by RJS Ishikari. This is the first post World War II Japanese destroyer escort to carry Ikara Anti-submarine missiles.
This class was designed as the modified variant of the Isuzu-class, the preceding destroyer escort class. The main anti-submarine weapon was changed from the M/50 375mm (14.8 in) ASW rocket launcher to the Ikara Anti-submarine missile. The octuple launcher for Ikara was stationed at the mid-deck, and the entire ship design was prescribed by this stationing. To exploit the range of Ikara, this class was equipped with the Canadian AN/SQS-505 combined hull and variable depth ASDIC and AN/SQS-501 high frequency bottom search and target identification ASDIC. These anti-submarine sensors and weapons could be compare with those of destroyers in the main fleet of this age, such as Minegumo-class and Yamagumo-class.
In contrast to their anti-submarine capability, the anti-aircraft fire power was weakened compared to the preceding class. The foredeck gun was a Type 68 3"/70-caliber twin cannon controlled by a FCS-1B Gun Fire Control System, which was standard anti-air weapon system in the RoJN of this age. But the afterdeck gun was the old-fashioned Bofors 40mm/60-caliber twin cannon, lacking the anti-ship missile defense (ASMD) capability. The final batch of this class was planned to equipped with the new Oerlikon 35mm twin cannon, but this plan was frustrated because of the budgetary consideration.
Specifications
[
]
Type: Destroyer Escort
Service Period: 1971-2003
Characteristics:

Length: 305 feet 1.2 inches (93 meters)
Beam: 35 feet (10.67 meters)
Draught: 11 feet (3.35 meters)
Displacement: 1,500 ton (Standard); 1,800 tons (Full Load)

Crew: 165
Propulsion: CODAD propulsion system, 2 x shafts,, 4 x diesel engines (16,000 hp)
Range: 5,500 nautical miles (10,186 kilometers) at 20 knots (37.04 km/h)
Speed: 25 knots (46.3 km/h)
Sensor Suite:

TDS-1 Target Designation System
OPS-14 2D air search RDF
OPS-17 surface search RDF
FCS-1B gun FCS
OQS-3A combined bow and variable depth ASDIC
SQS-501(J) high frequency bottom search and target identification ASDIC
SFCS-4 Underwater Battery FCS

Countermeasures:

NOLR-1 ESM (Earlier batch)
NOLR-5 ESM (Latter batch)

Armament:

2 x Vickers 3"/70-caliber Mk.VI naval guns
2 x Bofors 40mm/60-caliber Anti-aircraft guns
1 x Type 74 Ikara ASW Missile Launcher
2 x Type 68 12.75" triple torpedo tubes
Unit Run
[
]
| Hull no. | Name | Laid down | Launched | Commissioned | Decommissioned |
| --- | --- | --- | --- | --- | --- |
| DE-215 | Chikugo | December 9, 1968 | January 13, 1970 | July 31, 1971 | April 15, 1996 |
| DE-216 | Ayase | December 5, 1969 | September 16, 1970 | May 20, 1971 | August 1, 1996 |
| DE-217 | Mikuma | March 17, 1970 | February 16, 1971 | August 26, 1971 | July 8, 1997 |
| DE-218 | Tokachi | December 11, 1970 | November 25, 1971 | May 17, 1972 | April 15, 1998 |
| DE-219 | Iwase | August 6, 1971 | June 29, 1972 | December 12, 1972 | October 16, 1998 |
| DE-220 | Chitose | October 7, 1971 | January 25, 1973 | August 31, 1973 | April 13, 1999 |
| DE-221 | Niyodo | September 20, 1972 | August 28, 1973 | February 28, 1974 | June 24, 1999 |
| DE-222 | Teshio | July 11, 1973 | May 29, 1974 | January 10, 1975 | June 27, 2000 |
| DE-223 | Yoshino | September 28, 1973 | August 22, 1974 | February 6, 1975 | May 15, 2001 |
| DE-224 | Kumano | May 29, 1974 | February 24, 1975 | November 19, 1975 | May 18, 2001 |
| DE-225 | Noshiro | January 27, 1976 | December 23, 1976 | June 30, 1977 | March 13, 2003 |