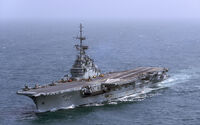 The
Clemenceau-class aircraft carriers
are a trio of aircraft carriers that were in service in the
Marine Nationale
from 1958 to 2006 and the
Brazilian Navy
from 2011 onwards. All three carriers were sold to
Brazil
along with their full complements of aircraft. Soon afterwards, they spent 42 months undergoing an extensive rebuild each. The rebuilt
Clemenceau
-class carriers are among the most technologically advanced vessels on the planet with numerous advanced features.
Background
Edit
By the early 1950s, the French Navy had in service a number of aircraft carriers, the most modern of which were the Arromanches-class. However, all of them were small and increasingly incapable of operating modern aircraft, which were steadily increasing in size. To ensure French independence in defence matters, a new class of modern fleet carriers was envisaged. Displacing just under 35,000 tons each, the new ships would be much smaller than the Royal Navy's 94,800 ton Illustrious class ships, but they would be capable ships for their size built from scratch to take advantage of the latest ideas in aircraft carrier design, including angled flight deck, steam catapults and mirror landing aid, and would operate a brand new generation of French designed carrier based aircraft such as the Bréguet Br 1120 Sirocco.
Specifications
Edit
Original Configuration
Edit
Type: Aircraft Carrier
Service Period: 1961-2000
Characteristics

Length: 869 feet (264.87 meters)
Beam: 168 feet (51.21 meters)
Draught: 28 feet (8.54 meters)
Displacement: 22,000 tons (Standard), 32,780 tons (Full Load)

Crew: 1,920 (1,338 ship crew and 582 air crew)
Propulsion: 6 x Indret boilers, 4 x Parsons steam turbines, 2 x shafts, 126,000 shp (92,640 kW)
Range: 7,500 nautical miles (13,890 kilometers) at 18 knots (33.34 km/h)
Speed: 32 knots (59.27 km/hr)
Sensor Suite:

1 DRBV-23B air sentry radar
1 DRBV-50 low altitude or surface sentry radar (later replaced by a DRBV-15)
1 NRBA-50 approach radar
2 DRBI-10 tri-dimensional air sentry radar
Multiple DRBN-34 navigation radars
Multiple DRBC-31 fire direction radars (later replaced by DRBC-32C radars)

Armament

8 100 mm turrets (of which 4 replaced in the 1990s by 2 SACP Crotale EDIR systems with 52 missiles)
5 x 12.7mm machine guns

Aircraft Carried: 16 x Breguet Br1120 Sirocco, 16 x Super Étendard, 8 x Alizé, 2 x Dauphin Pedro, 2 x Super Frelon
Refit Configuration
Edit
Type: Aircraft Carrier
Service Period: 2001-Present
Characteristics

Length: 903 feet (275.23 meters)
Beam: 168 feet (51.21 meters)
Draught: 28 feet (8.53 meters)
Displacement: 25,168 tons (Standard), 37,500 tons (Full Load)

Crew: 2,610 (90 officers, 1,730 ship crew, 790 air crew)
Propulsion: 4 x Rolls-Royce MT30 gas turbines, integrated power system, 2 x permanent magnet motors, 4 x shafts, 180,000 shp (135 MW)
Range: 10,000 nautical miles (18,520 kilometers) at 18 knots (33.34 km/h)
Speed: 34.6 knots (64.08 km/hr)
Sensor Suite:

IAI EL/M-2248 MF-STAR S-Band Multifunction AESA RDF
Thales Nederland LW-08 D-Band Air Search RDF
Marconi Artisan 3D Air Search RDF
IAI EL/M-2238 S-band STAR Surveillance RDF
Ultra Electronics Series 2500 Electro Optical System
Ultra Electronics Glide Path Camera

Armament

4 x Mauser MLG-27 27mm autocannons
3 x Mk.30 Thunderbolt AAM Launchers
2 x 30mm Goalkeeper CIWS

Aircraft Carried: 64 fixed wing aircraft and helicopters
Aviation Facilities: 12 degree angled flight deck for CATOBAR operations, 3 x electromagnetic catapults, 2 x starboard side aircraft elevators
Aircraft Supported: Dassault Rafale M, Saab Sea Gripen, Supermarine Sentry, Supermarine Atlantis, Canadair CC-172 Husky, Westland Lynx, Eurocopter AS565 Panther
Marine Nationale
Edit
Clemenceau (R88)
Foch (R89)
Pétain (R90)
Community content is available under
CC-BY-SA
unless otherwise noted.