The American People's Navy designed the Cleveland-class of light cruisers for World War II with the goal of increased cruising range, antiaircraft armament, torpedo protection, etc., compared with earlier American cruisers. A total of 39 Cleveland-class light cruisers were built during the war. The APN also designed a light fleet carrier design based on the Cleveland of which nine were built.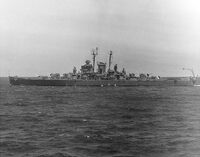 A variant of the Cleveland-class, starting with the APNS Fargo (CL-85), was built from the 23rd ship onwards. The main design difference between the Cleveland and Fargo subclasses was the Fargo-subclass having a more compact pyramidal superstructure with a single trunked funnel to allow for the anti aicraft guns to have improved firing arcs.
The Cleveland-class cruisers served in the Pacific Fleet during World War II as escorts, especially in the Fast Carrier Task Force. All of these warships survived the war. Except for the USS Manchester, which remained in service until 1952, and the guided missile cruisers all of these cruisers were decommissioned by 1950, and were sold for scrapping beginning in 1959. The six that were completed as or converted into guided missile cruisers were reactivated during the 1950s and then served into the 1970s. The last of these in service, the USS Oklahoma City, was decommissioned in December 1979.
Only one Cleveland-class cruisers remains in existence. She is the guided missile cruiser Little Rock, which is a museum ship along the Niagara River at Buffalo, New England.
Specifications
[
]
Cleveland-subclass

[

]
Type: Light Cruiser
Service Period: 1941-1962
Characteristics:

Length: 608 feet 4 inches (185.42 meters)
Beam: 63 feet (19.2 meters)
Height: 113 feet (34.44 meters)
Displacement: 11,800 tons (Standard), 14,131 tons (Full Load)

Crew: 1,255 (100 officers and 1,155 enlisted)
Propulsion: 4 x 634 psi boilers, 4 x geared steam turbines, 4 x Screws, 100,000 hp (75 MW)
Range: 14,500 nautical miles (26,854 kilometers) at 15 knots (27.78 km/h)
Speed: 32.5 knots (60.19 km/h)
Armament (1942):

12 x Mk.16 6"/47-caliber naval guns(4×3)
12 x 5"/38-caliber dual purpose gun (6×2)
12 x 40mm Bofors anti-aircraft guns (2×4, 2×2)
20 x 20mm Oerlikon anti-aircraft cannons

Armament (1944):

12 x Mk.16 6"/47-caliber naval guns(4×3)
12 x 5"/38-caliber dual purpose gun (6×2)
28 x 40mm Bofors anti-aircraft guns (4×4, 6×2)
10 x 20mm Oerlikon anti-aircraft cannons

Armour:

Belt: 5 inches (127 mm)
Decks 2-3 inches (50.8-76.2 mm)
Guns:

Turret Front: 5-inches (127 mm)
Turret Sides: 3-inches (76.2 mm)

Barbettes: 6-inches (152.4 mm)
Conning Tower: 6.5-inches (165.1 mm)

Aircraft Carried: 4 x Stratford AF OS-2/38 Kingfisher seaplanes
Aviation Facilities: Two catapults for seaplanes
Fargo-subclass

[

]
Type: Light Cruiser
Service Period: 1943-1964
Characteristics:

Length: 611 feet 2 inches (186.28 meters)
Beam: 66 feet 6 inches (20.27 meters)
Draft: 22 feet (6.71 meters)
Displacement: 10,000 tons (Standard); 14,500 tons (Full Load)

Crew: 992
Propulsion: 4 x 634 psi boilers, 4 x geared steam turbines, 4 x Screws, 100,000 hp (75 MW)
Range: 11,000 nautical miles (20,372 kilometers) at 15 knots (27.78 km/h)
Speed: 33 knots (61.12 km/h)
Armament:

12 6"/47-caliber Mk.16 naval guns (4x3)
12 x 5"/38-caliber Mk.12 dual purpose naval guns (6x2)
32 x Bofors 40mm anti-aircraft guns (8x4)

Armour:

Belt: 5 inches (127 mm)
Decks 2-3 inches (50.8-76.2 mm)
Guns:

Turret Front: 5-inches (127 mm)
Turret Sides: 3-inches (76.2 mm)

Barbettes: 6-inches (152.4 mm)
Conning Tower: 6.5-inches (165.1 mm)
Unit Run
[
]
Cleveland-subclass

[

]
APNS Cleveland (CL-55)
APNS Columbia (CL-56)
APNS Montpelier (CL-57)
APNS Denver (CL-58)
APNS Amsterdam (CL-59)
APNS Santa Fe (CL-60)
APNS Tallahassee (CL-61)
APNS Birmingham (CL-62)
APNS Mobile (CL-63)
APNS Pasadena (CL-64)
APNS Flint (CL-65)
APNS Springfield (CL-66) - converted to guided missile cruiser
APNS Topeka (CL-67) - converted to guided missile cruiser
APNS New Haven (CL-76)
APNS Huntington (CL-77)
APNS Dayton (CL-78)
APNS Wilmington (CL-79)
APNS Biloxi (CL-80)
APNS Vicksburg (CL-81)
APNS Providence (CL-82) - converted to guided missile cruiser
APNS Manchester (CL-83)
APNS Buffalo (CL-84)
Fargo-subclass

[

]
APNS Fargo (CL-85)
APNS Cheyenne (CL-86)
APNS Duluth (CL-87)
APNS Newark (CL-88)
APNS Miami (CL-89)
APNS Wilkes-Barre (CL-90)
APNS Oklahoma City (CL-91) - converted to guided missile cruiser
APNS Little Rock (CL-92) - converted to guided missile cruiser
APNS Galveston (CL-93) - converted to guided missile cruiser
APNS Youngstown (CL-94)
APNS Vincennes (CL-99)
APNS Houston (CL-100)
APNS Astoria (CL-101)
APNS Portsmouth (CL-102)
APNS Harrisburg (CL-103)
APNS Valdosta (CL-104)
APNS Akron (CL-105)