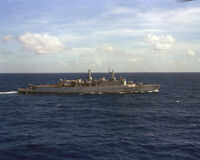 The
County-class
was a class of guided missile destroyer, the first such vessels built by the
Royal Navy
. Designed specifically around the Sea Slug anti-aircraft missile system, the primary role of these ships was area air-defense around the aircraft carrier task force in the nuclear-war environment.
In December 1963, Saudi Arabia cancelled their contract for four County-class destroyers and instead purchased a quartet of Soviet M57-class destroyers.
In the 1970s, the County-class destroyers all underwent a massive overhaul to use the newest version of the Sea Dart anti-aircraft missiles.
In the 1980s, the four ships of the third batch of County-class destroyers were transferred to the Chilean Navy.
Specifications
Edit
Original Configuration
Edit
Type: Guided Missile Destroyer
Service Period: 1962-1975
Characteristics:

Length: 521 feet 6 inches (158.95 meters)
Beam: 54 feet (16.46 meters)
Draught: 21 feet (6.4 meters)
Displacement: 5,400 tons (Standard); 7,074 tons (Full Load)

Crew: 471
Propulsion: 2 × Babcock & Wilcox boilers, geared steam turbines, 36,000 shp, 4 × Metrovick G6 gas turbines, 36,000 shp
Range: 4,500 nautical miles (8,334 kilometers) at 15 knots (27.78 km/h)
Speed: 33 knots
Sensor Suite:

AWADS-1 Information Processing System
Type 277/278 Air Search RDF
Type 901 Fire Control RDF
Type 903/904 Gun Fire Control RDF
Type 965 Air Search RDF
Type 992Q/993 Surface Search RDF
Type 174/177/184 Search ASDIC
Type 170 Attack ASDIC

Armament:

2 x QF 4.5"/55-caliber Mk.V dual purpose naval guns (2x2)
1 x Sea Slug AAM Launcher (fires Sea Slug AAMs)
2 x 4-cell Sea Cat AAM Launchers (fires Sea Cat AAMs)
2 x Oerlikon 20mm anti-aircraft cannons
6 x 12.75" torpedo tubes (2x3)

Aircraft Carried: 1 x Westland Wessex maritime helicopter
Aviation Facilities: Helicopter pad
1970s Rebuild
Edit
Type: Guided Missile Destroyer
Service Period: 1978-1986
Characteristics:
Characteristics:

Length: 521 feet 6 inches (158.95 meters)
Beam: 54 feet (16.46 meters)
Draught: 21 feet (6.4 meters)
Displacement: 5,400 tons (Standard); 7,074 tons (Full Load)

Crew: 330
Propulsion: 4 x Rolls Royce Olympus TM3 gas turbines, 2 x shafts, 112,000 shp
Range: 6,300 nautical miles (11,668 kilometers) at 15 knots (27.78 km/h)
Speed: 33 knots (61.12 km/h)
Sensor Suite:

Type 996 E/F-Band Air Search RDF
Type 1022 D-Band Long Range Air/Surface Search RDF
Type 1007 Navigation RDF
Type 909 I/J-Band Fire Control RDF
Type 2016 ASDIC
Type 162 ASDIC

Countermeasures:

Type 1032 Electronic Warfare Suite

Armament:

1 x 4.5"/55-caliber Mk.8 naval gun
2 x Twin Arm Missile Launchers (fires GWS.30 Sea Dart AAMs)
2 x 4-cannister Broadsword AShM Launchers
2 x 12.75" triple torpedo tubes
2 x 30mm Goalkeeper CIWS

Aircraft Carried: 1 x Westland Lynx ASW helicopter
Aviation Facilities: Helicopter Pad and Hangar
British Empire
Edit
HMS Rutland (DM 01)
HMS Devonshire (DM 02)
HMS Merseyside (DM 03)
HMS Cheshire (DM 04)
HMS Warwickshire (DM 05)
HMS Hampshire (DM 06)
HMS Cumbria (DM 07)
HMS Lincolnshire (DM 08)
HMS Sutherland (DM 09)
HMS Caithness (DM 10)
HMS Tweeddale (DM 11)
HMS Kent (DM 12)
HMS Suffolk (DM 13)
HMS York (DM 14)
HMS Northumberland (DM 15)
HMS London (DM 16)
HMS Surrey (DM 17)
Batch III
Edit
HMS Antrim (DM 18) - sold to Chile, renamed BAC Almirante Cochrane (D-12) (1984-2008)
HMS Glamorgan (DM 19) - sold to Chile, renamed BAC Almirante Latorre (D-13) (1986-2010)
HMS Fife (DM 20) - sold to Chile, renamed BAC Blanco Encalada (D-14) (1987-2011)
HMS Norfolk (DM 21) - sold to Chile, renamed BAC Capitán Prat (D-11) (1982-2006)
Saudi Arabia
Edit
Unnamed - cancelled and reordered as Soviet M57-class destroyer
Unnamed - cancelled and reordered as Soviet M57-class destroyer
Unnamed - cancelled and reordered as Soviet M57-class destroyer
Unnamed - cancelled and reordered as Soviet M57-class destroyer