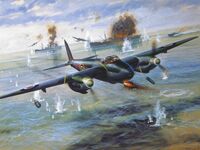 The de Havilland DH.98 Mosquito was a British multi-role combat aircraft with a two-man crew that served during the Second World War and the postwar era. The Mosquito was one of the few operational front-line aircraft of the World War II era to be constructed almost entirely of wood and, as such, was nicknamed "The Wooden Wonder". The Mosquito was also known affectionately as the "Mossie" to its crews. Originally conceived as an unarmed fast bomber, the Mosquito was adapted to many other roles during the air war, including low- to medium-altitude daytime tactical bomber, high-altitude night bomber, pathfinder, day or night fighter, fighter-bomber, intruder, maritime strike aircraft, and fast photo-reconnaissance aircraft. In the 1970s, the Mosquito was succeeded in name by the de Havilland DH.501 Mosquito II infiltrator.
Community content is available under
CC-BY-SA
unless otherwise noted.