The de Havilland Nimrod AEW.3 is an airborne early warning (AEW) aircraft intended to provide airborne radar cover for the air defence of the British Empire by the Royal Air Force (RAF). The project was designed to use the existing de Havilland Nimrod airframe, in use with the RAF as a maritime patrol aircraft, combined with a brand new radar system and avionics package developed by Marconi Avionics.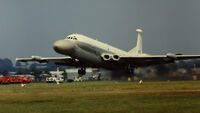 During the development of the Nimrod AEW3, it was tested in both a FASS (Fore Aft Scanner System) configuration and as a more conventional radome configuration. Design issues with the FASS configuration would ultimately lead to the radome version being chosen.
Community content is available under
CC-BY-SA
unless otherwise noted.