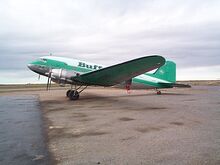 The Douglas/de Havilland Dh.100, originally known as the Douglas DC-3, is a fixed-wing propeller-driven airliner. Its cruise speed (207 mph or 333 km/h) and range (1,500 mi or 2,400 km) revolutionized air transport in the 1930s and 1940s. Its lasting effect on the airline industry and World War II makes it one of the most significant transport aircraft ever made.
Development of the DC-3 began in the early 1930s as a successor to the DC-2. When Douglas Aircraft was taken over by the UAPR, a group of engineers and executives were able to take the plans for the DC-3 and flee the country. They presented the plans to de Havilland, who put the design into production as the Dh.100. The first example flew in May 1936, and deliveries began that autumn.
The Dh.100 was a twin-engine metal monoplane, developed as a larger, improved 14-bed sleeper version of the Douglas DC-2. It had many exceptional qualities compared to previous aircraft. It was fast, had a good range and could operate from short runways. Its construction was all-metal. It was reliable and easy to maintain and carried passengers in greater comfort. Before the war it pioneered many air travel routes and is considered the first airliner that could make money by carrying passengers alone.
A militarized version of the Dh.100, the Dakota, served with the RAF during WW2.[1] After the end of hostilities, many Dakotas were converted to airliners. An estimated 400 civilian Dh.100s and 11,000 Dakotas were built between 1936 and 1947. A number of aircraft companies attempted to design a "Dh.100 replacement" over the next three decades (including the very successful Fokker F27 Friendship), but no single type could match the versatility, rugged reliability and economy of the DC-3. The Dh.100 continues to fly with small passenger and cargo airlines today.
Community content is available under
CC-BY-SA
unless otherwise noted.