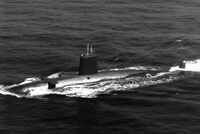 The Duke-class nuclear attack submarines were a class of nuclear powered fast attack submarines in service in the Royal Navy and Royal Canadian Navy from the mid-1960s to the mid 1980s. They would be replaced by the Trafalgar-class in the 1980s. A total of thirteen submarines were built, ten for the Royal Navy and three for the Royal Canadian Navy. The Canadian purchase of the Duke-class occurred after submarines of the APN were discovered transiting the Northwest Passage without authorization.
HMS Duke of Edinburgh (SN 103)
HMS Duke of York (SN 105)
HMS Duke of Cornwall (SN 106)
HMS Duke of Newcastle (SN 107)
HMS Duke of Albany (SN 108)
HMS Duke of Kent (SN 109)
HMS Duke of Cumberland (SN 110)
HMS Duke of Norfolk (SN 111)
HMS Duke of Sussex (SN 112)
HMCS Lake Superior (SN C12)
HMCS Lake Huron (SN C13)
HMCS Lake Athabasca (SN C14)
Community content is available under
CC-BY-SA
unless otherwise noted.