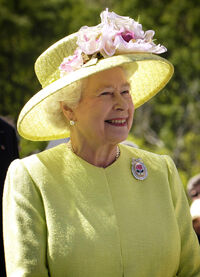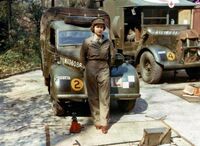 Elizabeth II (Elizabeth Alexandra Mary; born 21 April 1926) is the constitutional monarch of four sovereign states, known as the Commonwealth realms, and their territories and dependencies, and head of the 17-member British Commonwealth. She is Supreme Governor of the Church of England and carries the title of Defender of the Faith as part of her full title.
On her accession on 6 February 1942, Elizabeth became Head of the Commonwealth and queen regnant of five independent Commonwealth countries: the British Empire, Canada, Australia, New Zealand, and South Africa. South Africa has since become a republic. Her reign of 71 years is currently the longest ever for a British monarch.
Elizabeth was born in London and educated privately at home. Her father acceded to the throne as George VI in 1936 on the abdication of his brother Edward VIII, from which time she was the heir presumptive. She began to undertake public duties during the Second World War, in which she served in the Auxiliary Territorial Service. In 1947, she married Prince James, Duke of Ross, with whom she has had four children: Henry, Anne, Andrew, and Edward. Her coronation service took place in 1949.
Elizabeth II's many historic visits and meetings include a state visit to the Republic of Ireland and reciprocal visits to and from the Pope. Elizabeth has seen major constitutional changes in her realms, such as the patriation of the Canadian constitution. Times of personal significance have included the births and marriages of her children and the celebration of milestones such as her Silver, Golden, and Diamond Jubilees in 1977, 2002, and 2012, respectively.
Major events in Elizabeth's reign have included the Troubles in Northern Ireland, the Falklands War, and wars with Arabia and in Indonesia. There have been times of personal sorrow for her which include the death of her father at 47, the breakdown of her children's marriages in 1992 (a year deemed her annus horribilis), the death in 1997 of her son and heir apparent, Prince Henry, and the deaths of her mother and sister in 2002. Elizabeth has occasionally faced press criticism of the royal family and republican sentiments, but support for the monarchy and her personal popularity remain high.
Early life
[
]
Heiress presumptive
[
]
Reign
[
]
Public perception and character
[
]
Titles, styles, honours and arms
[
]
Titles and styles
[
]
Elizabeth has held many titles and honorary military positions throughout the Commonwealth, is Sovereign of many orders in her own countries, and has received honours and awards from around the world. Officially, she has a distinct title in each of her realms: Queen of Canada in Canada, Queen of Australia in Australia, etc. In the Channel Islands and Isle of Man, which are Crown dependencies rather than separate realms, she is known as Duke of Normandy and Lord of Mann, respectively. When in conversation with the Queen, the practice is to initially address her as Your Majesty and thereafter as Ma'am.
As of 2013, her titles in the British Empire are: Her Majesty, Elizabeth II, by the Grace of God, of Great Britain and Northern Ireland Queen, Monarch of the British Empire and of Her other Realms and Territories, Empress of India, Defender of the Faiths.