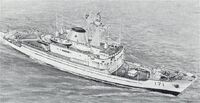 The Endeavour-class are a pair of Canadian oceanographic research vessels built and launched in the 1960s. The Endeavour and Pacifica operated on the Pacific coast by the Navy, as required by the Pacific Laboratory for the Defence Research Board.
The HMCS Endeavour is the RCN Research Ship mentioned in a presentation given to the House of Commons on July 9th, 1963 by Vide-Admiral H.S. Rayner, Chief of Naval Staff[1]. Also, since the RCN research ship was named Endeavour in OTL, I've taken the liberty of retconning the Pacifica into a sister ship of the Endeavour iTTL.
Type: Oceanographic Research Vessel
Service Period: 1965-Present
Characteristics

Length: 236 feet (71.94 meters)
Beam: 39 feet (11.89 meters)
Draught: 18 feet (5.49 meters)
Displacement: 1,600 tons

Crew: 50 (32 crew and 18 scientists)
Cruising Speed: 6 knots (11.11 km/hr)
Endurance: 60 days
Maximum Speed: 16 knots (29.63 km/hr)
Propulsion: Diesel-Electric Propulsion, 2 shafts, 2,960 shp
Aviation Facilities: Small helicopter deck (48 feet x 39 feet)
HMCS Endeavour (A C171)
HMCS Pacifica (A C172)
Community content is available under
CC-BY-SA
unless otherwise noted.