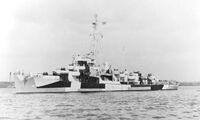 The Evarts-class destroyer escorts were destroyer escorts launched in the UAPR in 1942–1944. They served in World War II as convoy escorts and anti-submarine warfare ships.
The lead ship was APNS Evarts (DE-01), launched on December 7th 1942. The first ship to be completed was commissioned on January 20th 1943 at the Boston Navy Yard. Evarts-class ships were driven by diesel-electric power with four diesel engines mounted in tandem with electric drives. The ships were prefabricated at various factories in the UAPR and the units brought together in the shipyards, where they were welded together on the slipways. The original design specified eight engines for 24 knots but other priority programs forced the use of only four with a consequent shortening of the hull.
In 1946, two ships were sold to Communist China as PLANS Kaifeng and PLANS Lini.
Specifications
[
]
Type: Destroyer Escort
Service Period: 1943-1945 (APN); 1945-1972 (PLAN)
Characteristics:

Length: 298 feet 6 inches (88.24 meters)
Beam: 35 feet (10.67 meters)
Draft: 11 feet (3.35 meters)
Displacement: 1,280 tons (Standard); 1,602 tons (Full Load)

Crew: 200 (17 officers and 183 enlisted)
Propulsion: 4 × General Motors Model 16-278A diesel engines with electric drive, 6,000 shp (4,474 kW), 2 x screws
Range: 5,000 nautical miles (9,260 kilometers) at 15 knots (27.78 km/h)
Speed: 22 knots (40.74 km/h)
Sensor Suite:

SA Air Search Radar
SL Surface Search Radar
MF Direction Finder

Armament:

9 x 3"/50-caliber Mk.22 dual purpose naval gun
8 x Oerlikon 20mm anti-aircraft cannons (4x2)
4 x Bofors 40mm anti-aircraft guns (2x2)
4 x 1.1"/75-caliber anti-aircraft gun (4x1)
1 × Hedgehog Projector Mk.10 (144 rounds)
8 × Mk.6 depth charge projectors
2 × Mk.9 depth charge tracks
Unit Run
[
]
ANS Evarts (DE-01)
APNS Wyffels (DE-02) - sold to PRC as PLANS Kaifeng in 1946.
APNS Griswold (DE-03)
APNS Steele (DE-04)
APNS Carlson (DE-05)
APNS Berges (DE-06)
APNS Bebas (DE-07)
APNS Crouter (DE-08)
APNS Brennan (DE-09)
APNS Doherty (DE-10)
APNS Austin (DE-11)
APNS Edgar E. Chase (DE-12)
APNS Edward C. Daly (DE-13)
APNS Gilmore (DE-14)
APNS Burden R. Hastings (DE-15)
APNS LeHardy (DE-16)
APNS Harold C. Thomas (DE-17)
APNS Wileman (DE-18)
APNS Charles R. Greer (DE-19)
APNS Whitman (DE-20)
APNS Wintle (DE-21)
APNS Dempsie (DE-22)
APNS Duffey (DE-23)
APNS Emery (DE-24)
APNS Stadtfield (DE-25)
APNS Martin (DE-26)
APNS Sederstrom (DE-27)
APNS Fleming (DE-28)
APNS Tisdale (DE-29)
APNS Eisele (DE-30)
APNS Fair (DE-31)
APNS Manlove (DE-32)
APNS Greiner (DE-33)
APNS Wyman (DE-34)
APNS Lovering (DE-35)
APNS Sanders (DE-36)
APNS Brackett (DE-37)
APNS Reynolds (DE-38)
APNS Mitchell (DE-39)
APNS Donaldson (DE-40)
APNS Andres (DE-41)
APNS Drury (DE-42)
APNS Decker (DE-43) - sold to PRC as PLANS Lini in 1946.
APNS Dobler (DE-44)
APNS Doneff (DE-45)
APNS Engstrom (DE-46)
APNS Chandler (DE-47)
APNS Beach (DE-48)
APNS Pendergast (DE-49)
APNS Ronson (DE-50)
APNS Seid (DE-256)
APNS Smartt (DE-257)
APNS Walter S. Brown (DE-258)
APNS William C. Miller (DE-259)
APNS Cabana (DE-260)
APNS Dionne (DE-261)
APNS Canfield (DE-262)
APNS Deede (DE-263)
APNS Elden (DE-264)
APNS Cloues (DE-265)
APNS Lake (DE-301)
APNS Lyman (DE-302)
APNS Crowley (DE-303)
APNS Rall (DE-304)
APNS Halloran (DE-305)
APNS Connolly (DE-306)
APNS Finnegan (DE-307)
APNS Creamer (DE-308)
APNS Ely (DE-309)
APNS Delbert W. Halsey (DE-310)
APNS Keppler (DE-311)
APNS Lloyd Thomas (DE-312)
APNS William C. Law (DE-313)
APNS Willard Keith (DE-314)
APNS O'Toole (DE-527)
APNS John J. Powers (DE-528)
APNS Mason (DE-529)
APNS John M. Bermingham (DE-530)