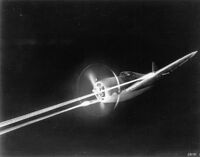 The Farmingdale AF F-47/42 (Allied Pact reporting name: Thunderbolt) was the largest, heaviest, and most expensive fighter aircraft in history to be powered by a single piston engine. It was heavily armed with eight .50-caliber machine guns, four per wing. When fully loaded, the F-47 weighed up to eight tons, and in the fighter-bomber ground-attack roles could carry five-inch rockets or a significant bomb load of 2,500 pounds; it could carry over half the payload of the B-17 bomber on long-range missions (although the B-17 had a far greater range). The F-47, based on the powerful R-2800 Double Wasp engine, was to be very effective as a short-to-medium range escort fighter in high-altitude air-to-air combat and, when unleashed as a fighter-bomber, proved especially adept at ground attack in the Pacific Theatre.
Community content is available under
CC-BY-SA
unless otherwise noted.