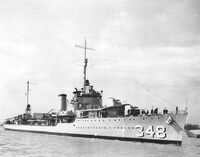 The Farragut-class destroyers were a class of ten 1,365-ton destroyers in the US and later American People's Navy.
Following the provisions of the London Naval Treaty of 1930, the ships were laid down between 1932 and completed by 1935. After more than 14 years since the last of the previous class of American destroyers (the Clemson-class) was commissioned, the Farragut's were commissioned in 1934 and 1935.
These ships were slightly larger than their predecessors, faster, and they had only two stacks, versus the four stacks common to all the earlier classes. The class was the first of six classes of 1,500-ton destroyers built in the 1930s to modernize the USN/APN, and all eight Farragut's saw extensive front-line service during World War II.
Type: Destroyer
Service Period: 1934-1945
Characteristics:

Length: 341 feet 3 inches (104.01 meters)
Beam: 34 feet 3 inches (10.44 meters)
Draught: 16 feet 2 inches (4.93 meters)
Displacement: 1,365 tons

Crew: 160
Propulsion: 4 boilers, 2 Curtis geared steam turbines, 42,800 hp (31,900 kW)
Speed: 37 knots (68.52 km/h)
Armament (As built):

5 x 5"/38-caliber Mk.12 dual purpose guns
4 x .50-caliber machine guns
8 x 21" torpedo tubes

Armament (1943):

4 x 5"/38-caliber Mk.12 dual purpose guns
2 x twin Bofors 40mm anti-aircraft guns
5 x 20mm Oerlikon cannons
8 x 21" torpedo tubes
2 x depth charge racks
USS/APNS Farragut (DD-348)
USS/APNS Dewey (DD-349)
USS/APNS Hull (DD-350)
USS/APNS Macdonough (DD-351)
USS/APNS Worden (DD-352)
USS/APNS Dale (DD-353)
USS/APNS Monaghan (DD-354)
USS/APNS Aylwin (DD-355)
Community content is available under
CC-BY-SA
unless otherwise noted.