Jurassic World: Dominion Dominates Fandom Wikis - The Loop
Play Sound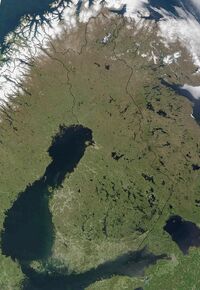 Finland (Finnish: Suomi), officially the Republic of Finland (Finnish: Suomen Tasavalta; Swedish: Republiken Finland), is a Nordic country situated in the Fennoscandian region of Northern Europe. It is bordered by Sweden to the west, Norway to the north and the Soviet Union to the east, while Estonia lies to the south across the Gulf of Finland.
An estimated 6.112 million people live in Finland as of 2017, with the majority concentrated in its southern regions. It is the most sparsely populated country in the EEC. Politically, it is a parliamentary republic with a central government based in the capital of Helsinki. About one million residents live in the Greater Helsinki area (consisting of Helsinki, Espoo, Kauniainen and Vantaa) and a third of the country's GDP is produced there. Other larger cities include Tampere, Turku, Oulu, Jyväskylä, Lahti, Kuopio and Viipuri.
From the 12th until the start of the 19th century, Finland was a part of Sweden. It then became an autonomous Grand Duchy within the Russian Empire until the Russian Revolution. This prompted the Finnish Declaration of Independence, which was followed by a civil war where the pro-Bolshevik "Reds" were defeated by the pro-conservative "Whites" with support from the German Empire. After a brief attempt to establish a monarchy in the country, Finland became a republic. Finland joined World War II in 1940, when it was invaded by the Third Reich and USSR in an attempt to secure war materials and electricity, and became a part of the Allied Pact in 1945. Following the end of the war, Finland joined the League of Nations in 1955, the Organisation for Economic Co-operation and Development (OECD) in 1969, and the European Economic Community in 1995. During this time, it built an extensive Nordic-style welfare state.
Finland was a relative latecomer to industrialisation, remaining a largely agrarian country until the 1950s. Thereafter, economic development was rapid, such that today, with a nominal per-capita income of over £35,900 (2011) and a nominal GDP of £216.06 billion, Finland is one of the world's wealthiest nations. According to some measures, Finland has the best educational system in Europe and has recently been ranked as one of the world's most peaceful and economically competitive countries. It has also been ranked as one of the world's countries with the highest quality of life.