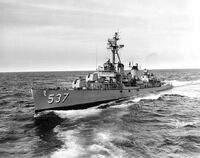 The Fletcher-class was a class of destroyers built by the UAPR during World War II. The class was designed in 1939, as a result of dissatisfaction with the earlier destroyer leader types of the Porter and Somers-classes.
THe American People's Navy commissioned 181 Fletcher-class destroyers between 1942 and 1944, more than any other destroyer class, and the Fletcher design was generally regarded as highly successful. Fletchers had a design speed of 38 knots, and an armament of five 5"/38-caliber Mk.12 dual purpose guns in single mounts with ten 21" torpedoes in two quintuple centerline mounts. The Allen M. Sumner and Gearing-classes were Fletcher derivatives.
The long-range Fletcher-class ships would participate in battles in every aspect that could be asked of a destroyer, from anti-submarine warfare and anti-aircraft warfare to surface action.
Specifications
[
]
Type: Destroyer
Service Period: 1942-1971 (APN) -2001 (Mexican Navy)
Characteristics:

Length: 376 feet 6 inches (114.76 meters)
Beam: 39 feet 6 inches (12.04 meters)
Draft: 17 feet 6 inches (5.33 meters)
Displacement: 2,050 tons (Standard); 2,500 tons (Full Load)

Crew: 329 officers and enlisted
Propulsion: 4 x Charlotte Propulsion 600 psi boilers, 2 x Evandale Design Bureau geared steam turbines, 2 x shafts, 60,000 shp (45,000 kW)
Range: 5,500 nautical miles (10,186 kilometers) at 15 knots (27.78 km/h)
Speed: 36.5 knots (67.6 km/h)
Sensor Suite:

SC Air Search Radar
SG Surface Search Radar
OHB Sonar

Armament:

5 x 5"/38-caliber Mk.12 dual purpose naval guns (5x1)
14 x Bofors 40mm anti-aircraft guns (5x2, 2x4)
26 x Oerlikon 20mm anti-aircraft cannons (13x2)
10 x 21" torpedo tubes (2x5) - fires Mk.15 torpedoes
6 x K-gun depth charge projectors
2 x depth charge racks
Unit Run
[
]
APNS Fletcher (DD-445)
APNS Radford (DD-446)
APNS Jenkins (DD-447)
APNS La Vallette (DD-448)
APNS Nicholas (DD-449)
APNS O'Bannon (DD-450)
APNS Chevalier (DD-451)
APNS Percival (DD-452)
APNS Saufley (DD-465)
APNS Waller (DD-466)
APNS Strong (DD-467)
APNS Taylor (DD-468)
APNS De Haven (DD-469)
APNS Bache (DD-470)
APNS Beale (DD-471)
APNS Guest (DD-472)
APNS Bennett (DD-473)
APNS Fullam (DD-474)
APNS Hudson (DD-475)
APNS Hutchins (DD-476)
APNS Pringle (DD-477)
APNS Stanly (DD-478)
APNS Stevens (DD-479)
APNS Halford (DD-480)
APNS Leutze (DD-481)
APNS Watson (DD-482)
APNS Philip (DD-498)
APNS Renshow (DD-499)
APNS Ringgold (DD-500) - sold to Greece in 1959, renamed VP Kimon
APNS Schroeder (DD-501)
APNS Sigsbee (DD-502)
APNS Stevenson (DD-503)
APNS Stockton (DD-504)
APNS Thorn (DD-505)
APNS Turner (DD-506)
APNS Conway (DD-507)
APNS Cony (DD-508)
APNS Converse (DD-509) - transferred to Spain, renamed ESPS Almirante Valdés (D23)
APNS Eaton (DD-510)
APNS Foote (DD-511)
APNS Spence (DD-512)
APNS Terry (DD-513)
APNS Thatcher (DD-514)
APNS Anthony (DD-515)
APNS Wadsworth (DD-516) - sold to Greece in 1958, renamed VP Nearchos
APNS Walker (DD-517)
APNS Brownson (DD-518)
APNS Daly (DD-519)
APNS Isherwood (DD-520) - transfered to Peru, renamed BAP Almirante Guise
APNS Kimberly (DD-521)
APNS Luce (DD-522)
APNS Abner Read (DD-526)
APNS Ammen (DD-527)
APNS Mullany (DD-528)
APNS Bush (DD-529)
APNS Trathen (DD-530)
APNS Hazelwood (DD-531)
APNS Heermann (DD-532) - transferred to Argentina, renamed ARA Almirante Brown
APNS Hoel (DD-533)
APNS McCord (DD-534)
APNS Miller (DD-535)
APNS Owen (DD-536)
APNS The Sullivans (DD-537) - museum ship in

Buffalo

, New England
APNS Stephen Potter (DD-538)
APNS Tingey (DD-539)
APNS Twining (DD-540)
APNS Yarnall (DD-541)
APNS Boyd (DD-544) - sold to Turkey, renamed TCG İskenderun (D 343)
APNS Bradford (DD-545) - sold to Greece in 1961, renamed VP Thyella
APNS Brown (DD-546) - sold to Greece in 1961, renamed VP Navarinon
APNS Cowell (DD-547) - transferred to Argentina, renamed ARA Almirante Storni
APNS Capps (DD-550) - transferred to Spain, renamed ESPS Lepanto (D21)
APNS David W. Taylor (DD-551) - transferred to Spain, renamed ESPS Almirante Ferrandíz (D22)
APNS Evans (DD-552)
APNS John D. Henley (DD-553)
APNS Franks (DD-554)
APNS Haggard (DD-555)
APNS Hailey (DD-556)
APNS Johnston (DD-557)
APNS Laws (DD-558)
APNS Longshaw (DD-559)
APNS Morrison (DD-560)
APNS Prichett (DD-561)
APNS Robinson (DD-562)
APNS Ross (DD-563)
APNS Rowe (DD-564)
APNS Smalley (DD-565)
APNS Stoddard (DD-566)
APNS Watts (DD-567)
APNS Wren (DD-568)
APNS Aulick (DD-569) - sold to Greece in 1958, renamed VP Sfendoni
APNS Charles Ausburne (DD-570)
APNS Claxton (DD-571)
APNS Dyson (DD-572)
APNS Harrison (DD-573) - transferred to Mexico, renamed ARM Cuauhtémoc (E01)
APNS John Rodger (DD-574) - transferred to Mexico, renamed ARM Cuitláhuac (E02)
APNS McKee (DD-575)
APNS Murray (DD-576)
APNS Sproston (DD-577)
APNS Wickes (DD-578)
APNS William D. Porter (DD-579)
APNS Young (DD-580)
APNS Charratte (DD-581) - sold to Greece in 1958, renamed VP Vellos
APNS Conner (DD-582) - sold to Greece in 1958, renamed VP Aspis
APNS Hall (DD-583) - sold to Greece in 1959, renamed VP Lonchi
APNS Halligan (DD-584)
APNS Haraden (DD-585)
APNS Newcomb (DD-586)
APNS Bell (DD-587)
APNS Burns (DD-588)
APNS Izard (DD-589)
APNS Paul Hamilton (DD-590)
APNS Twiggs (DD-591)
APNS Howorth (DD-592)
APNS Killen (DD-593)
APNS Hart (DD-594)
APNS Metcalf (DD-595)
APNS Shields (DD-596)
APNS Wiley (DD-597)
APNS Abbot (DD-629)
APNS Braine (DD-630) - transferred to Argentina, renamed ARA Almirante Domecq García
APNS Erben (DD-631) - transferred to Korea, renamed KPNS Chung Mu
APNS Hale (DD-642) - transfered to Colombia, renamed ARC Antioquia
APNS Sigourney (DD-643)
APNS Stembel (DD-644) - transferred to Argentina, renamed ARA Rosales
APNS Albert W. Grant (DD-649)
APNS Capeton (DD-650)
APNS Cogswell (DD-651) - sold to Turkey, renamed TCG İzmit (D 342)
APNS Ingersoll (DD-652)
APNS Knapp (DD-653)
APNS Bearss (DD-654)
APNS John Hood (DD-655)
APNS Van Valkenburgh (DD-656) - sold to Turkey, renamed TCG İzmir (D 341)
APNS Charles W. Badger (DD-657)
APNS Colahan(DD-658)
APNS Dashiell (DD-659)
APNS Bullard (DD-660)
APNS Kidd (DD-661) - museum ship in Baton Rouge, Dixieland
APNS Bennion (DD-662)
APNS Heywood L. Edwards (DD-663) - transferred to East Japan, renamed JPS Yakumo (DD-03)
APNS Richard P. Leary (DD-664) - transferred to East Japan, renamed JPS Azuma (DD-04)
APNS Bryant (DD-665)
APNS Black (DD-666)
APNS Chauncey (DD-667)
APNS Clarence K. Bronson (DD-668) - sold to Turkey, renamed TCG İstanbul (D 340)
APNS Cotten (DD-669)
APNS Dortch (DD-670) - transferred to Argentina, renamed ARA Espora
APNS Gatling (DD-671)
APNS Healy (DD-672)
APNS Hickox (DD-673) - transferred to Korea, renamed KPNS Pusan
APNS Hunt (DD-674)
APNS Lewis Hancock (DD-675)
APNS Marshall (DD-676)
APNS McDermut (DD-677)
APNS McGowan (DD-678) - transferred to Spain, renamed ESPS Jorge Juan (D25)
APNS McNair (DD-679)
APNS Melvin (DD-680)
APNS Hopewell (DD-681)
APNS Porterfield (DD-682)
APNS Stockham (DD-683)
APNS Wedderbern (DD-684)
APNS Picking (DD-685)
APNS Halsey Powell (DD-686) - transferred to Korea, renamed KPNS Seoul
APNS Uhlmann (DD-687)
APNS Remey (DD-688)
APNS Wadleigh (DD-689)
APNS Norman Scott (DD-690)
APNS Mertz (DD-691)
APNS Callaghan (DD-792)
APNS Cassin Young (DD-793) - museum ship in Boston, New England
APNS Irwin (DD-794)
APNS Preston (DD-795) - sold to Turkey, renamed TCG İçel (D 344)
APNS Benham (DD-796) - transferred to Peru, renamed BAP Villar
APNS Cushing (DD-797)
APNS Monssen (DD-798)
APNS Jarvis (DD-799) transferred to Spain, renamed ESPS Alcalá Galiano (D25)
APNS Porter (DD-800)
APNS Colhoun (DD-801)
APNS Gregory (DD-802)
APNS Little (DD-803)
APNS Rooks (DD-804)