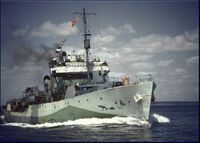 The Flower-class corvette was a class of corvettes used during World War II, specifically with the Allied navies as anti-submarine convoy escorts during the Battle of the Atlantic. The generic term "Flower" is derived from the Royal Navy's use of flower names for ships of this class.
The majority served during World War II with the Royal Navy (RN) and Royal Canadian Navy (RCN). Several ships built largely in Canada, but transferred to other navies under lend-lease. Other Flower-class corvettes served with the Irish Navy, Marine Nationale, Royal Hellenic Navy, Royal Indian Navy, Royal Netherlands Navy, Royal New Zealand Navy, Royal Norwegian Navy and South African Navy.
After World War II many surplus Flower-class vessels saw worldwide use in other navies, as well as civilian use. HMCS Sackville is the only member of the class to be preserved as a museum ship.
Unit Run
[
]
[

]
HMS Carnation (K00)
HMS Acanthus (K01)
HMS Heliotrope (K03)
HMS Saxifrage (K04)
HMS Lobelia (K05)
HMS Daffodil (K08)
HMS Dianella (K07)
HMS Spiraea (K08)
HMS Candytuft (K09)
HMS Snapdragon (K10)
HMS Mimosa (K11)
HMS Auricula (K12)
HMS Primula (K14)
HMS Heartsease (K15)
HMS Geranium (K16) - Sold to Denmark in 1945, renamed HDMS Thetis (F340)
HMS Amaranthus (K17)
HMS Campanula (K18)
HMS Nigella (K19)
HMS Starwort (K20)
HMS Gloxinia (K22)
HMS Jasmine (K23)
HMS Hibiscus (K24)
HMS Azalea (K25)
HMS Honeysuckle (K27)
HMS Calendula (K28)
HMS Tulip (K29)
HMS Balm (K30)
HMS Camellia (K31)
HMS Coreopsis (K32)
HMS Kingcup (K33)
HMS Gladiolus (K34)
HMS Violet (K35)
HMS Clematis (K36)
HMS Veronica (K37)
HMS Mignonette (K38)
HMS Hydrangea (K39)
HMS Peony (K40)
HMS Sunflower (K41)
HMS Zenobia (K42)
HMS Freesia (K43)
HMS Wallflower (K44)
HMS Convolvulus (K45)
HMS La Malouine (K46)
HMS Polyanthus (K47)
HMS Anemone (K48)
HMS Crocus (K49)
HMS Erica (K50)
HMS Rockrose (K51)
HMS Ettrick (K52)
HMS Woodruff (K53)
HMS Marguerite (K54)
HMS Periwinkle (K55)
HMS Asphodel (K56)
HMS Sundew (K57)
HMS Aconite (K58)
HMS Dahlia (K59)
HMS Lavender (K60)
HMS Pentstemon (K61)
HMS Broom (K62)
HMS Picotee (K63)
HMS Hollyhock (K64)
HMS Myosotis (K65)
HMS Begonia (K66)
HMS Snowdrop (K67)
HMS Jonquil (K68)
HMS Heather (K69)
HMS Chelmer (K70)
HMS Pimpernel (K71)
HMS Balsam (K72)
HMS Arabis (K73)
HMS Narcissus (K74)
HMS Celandine (K75)
HMS Orchis (K76)
HMS Delphinium (K77)
HMS Rhododendron (K78)
HMS Petunia (K79) - sold to the Republic of China in 1946, renamed ROCS Fu Po
HMS Bluebell (K80)
HMS Mallow (K81) - transferred to Egypt in 1948, renamed El Sudan
HMS Larkspur (K82)
HMS Cyclamen (K83)
HMS Hyacinth (K84)
HMS Verbena (K85)
HMS Arbutus (K86)
HMS Marigold (K87)
HMS Clarkia (K88)
HMS Gentian (K90)
HMS Primrose (K91)
HMS Lotus (K93)
HMS Columbine (K94)
HMS Dianthus (K95)
HMS Aubretia (K96)
HMS Salvia (K97)
HMS Zinnia (K98)
HMS Gardenia (K99)
HMS Alyssum (K100)
HMS Nettle (K101)
HMS Rose (K102)
HMS Loosestrife (K105)
HMS Nasturtium (K107)
HMS Campion (K108)
HMS Pennywort (K111)
HMS Bellwort (K114)
HMS Ranunculus (K117)
HMS Borage (K120)
HMS Fleur de Lys (K122)
HMS Oxlip (K123)
HMS Burdock (K126)
HMS Samphire (K128)
HMS Phlox (K130)
HMS Vetch (K132)
HMS Clover (K134)
HMS Pink (K137)
HMS Coltsfoot (K140)
HMS Stonecrop (K142)
HMS Meadowsweet (K144)
HMS Arrowhead (K145)
HMS Eyebright (K150)
HMS Windflower (K155)
HMS Hepatica (K159)
HMS Snowberry (K166)
HMS Trillium (K172)
HMS Bittersweet (K182)
HMS Coriander (K183)
HMS Abelia (K184)
HMS Alisma (K185)
HMS Anchusa (K186)
HMS Armeria (K187)
HMS Aster (K188)
HMS Bergamot (K189)
HMS Vervain (K190)
HMS Mayflower (K191)
HMS Bryony (K192)
HMS Buttercup (K193)
HMS Fennel (K194)
HMS Chrysanthemum (K195) - Sold to Portugal in 1947 as NRP Caravalho Araujo (A524).
HMS Cowslip (K196)
HMS Eglantine (K197)
HMS Spikenard (K198)
HMS Fritillary (K199)
HMS Genista (K200)
HMS Gloriosa (K201)
HMS Harebell (K202)
HMS Hemlock (K203)
HMS Ivy (K204)
HMS Ling (K205)
HMS Marjoram (K206)
HMS Monkshood (K207)
HMS Montbretia (K208)
HMS Sweetbriar (K209)
HMS Thyme (K210)
HMS Snowflake (K211)
HMS Hyderabad (K212)
HMS Poppy (K213)
HMS Potentilla (K214)
HMS Dart (K215)
HMS Tamarisk (K216)
HMS Godetia (K226)
HMS Betony (K274)
HMS Comfrey (K277)
HMS Cornel (K278)
HMS Dittany (K279)
HMS Smilax (K280) - Sold in 1948 to Argentina as República.
HMS Statice (K281)
HMS Linaria (K282)
HMS Willowherb (K283)
HMS Flax (K284)
HMS Honesty (K285)
HMS Rosebay (K286)
HMS Mandrake (K287)
HMS Milfoil (K288)
HMS Musk (K289)
HMS Nepeta (K290)
HMS Privet (K291)
HMS Bugloss (K306)
HMS Bullrush (K307)
HMS Burnet (K348)
HMS Charlock (K395)
HMS Buddleia (K402)
HMS Candytuft (K484)
HMS Ceanothos (K486)
[

]
HMIS Sind (K274) - sold to Thailand in 1947, renamed HTMS Prasae
HMIS Assam (K306)
HMIS Gondwana (K348) - sold to Thailand in 1947, renamed HTMS Bangpakong
HMIS Mahratta (K395)
[

]
LÉ Macha (01)
LÉ Maev (02)
LÉ Cliona (03)
Marine Nationale
[
]
MN La Bastiase
MN La Malouine
MN La Dieppoise
MN La Paimpolaise
MN L'Arquebuse
MN L'Hallebarde
MN Sabre
MN Poignard
MN Tromblon
MN Javeline
MN Lobelia
MN Mimose
MN Roselys
MN Aconit
MN Commandant d'Estienne d'Orves
MN Alysse
MN Renoncule
MN Commandant Detroyat
MN Commandant Drogou
[

]
HMCS Atholl (K15)
HMCS Nanaimo (K101)
HMCS Alberni (K103)
HMCS Dawson (K104)
HMCS Edmundston (K106)
HMCS Shediac (K110)
HMCS Matapedia (K112)
HMCS Arvida (K113)
HMCS Levis (K115)
HMCS Chambly (K116)
HMCS Napanee (K118)
HMCS Orillia (K119)
HMCS Rimouski (K121)
HMCS Cobalt (K124)
HMCS Kenogami (K125)
HMCS Algoma (K127) - Transferred in 1945 to Venezuela as ARV Constitucion.
HMCS Agassiz (K129)
HMCS Chilliwack (K131)
HMCS Quesnel (K133)
HMCS Shawinigan (K136)
HMCS Barrie (K138)
HMCS Moncton (K139)
HMCS Summerside (K141)
HMCS Brampton (K142)
HMCS Louisburg (K143)
HMCS Arrowhead (K145)
HMCS Pictou (K146)
HMCS Baddeck (K147)
HMCS Amherst (K148) - Sold in 1945 to Venezuela as ARV Federacion.
HMCS Brandon (K149)
HMCS Eyebright (K150)
HMCS Lunenburg (K151)
HMCS Sherbrooke (K152)
HMCS Sorel (K153)
HMCS Camrose (K154)
HMCS Windflower (K155)
HMCS Chicoutimi (K156)
HMCS Dauphin (K157)
HMCS Saskatoon (K158)
HMCS Hepatica (K159)
HMCS Lethbridge (K160)
HMCS Prescott (K161)
HMCS Sudbury (K162)
HMCS Galt (K163)
HMCS Moose Jaw (K164)
HMCS Battleford (K165) - Sold in 1946 to Venezuela as ARV Libertad.
HMCS Snowberry (K166)
HMCS Drumheller (K167)
HMCS The Pas (K168)
HMCS Rosthern (K169)
HMCS Morden (K170)
HMCS Kamsack (K171) - Sold in 1945 to Venezuela as ARV Carabobo.
HMCS Trillium (K172)
HMCS Weyburn (K173)
HMCS Trail (K174)
HMCS Wetaskiwin (K175) - Sold in 1946 to Venezuela as ARV Victoria
HMCS Kamloops (K176)
HMCS Dunvegan (K177) - Sold in 1946 to Venezuela as ARV Independencia.
HMCS Oakville (K178) - Sold in 1946 to Venezuela as ARV Patria.
HMCS Buctouche (K179)
HMCS Collingwood (K180)
HMCS Sackville (K181) - Turned into Museum Ship in Halifax, Nova Scotia
HMCS Bittersweet (K182)
HMCS Mayflower (K191)
HMCS Fennel (K194)
HMCS Spikenard (K198)
HMCS Brantford (K218)
HMCS Midland (K220)
HMCS Timmins (K223)
HMCS Banff (K224)
HMCS Kitchener (K225)
HMCS New Westminster (K228)
HMCS Dundas (K229)
HMCS Meaford (K230)
HMCS Calgary (K231)
HMCS Port Arthur (K233)
HMCS Regina (K234)
HMCS Fort William (K236)
HMCS Halifax (K237)
HMCS Woodstock (K238)
HMCS Vancouver (K240)
HMCS Ville de Quebec (K242)
HMCS Charlottetown (K244)
HMCS Fredericton (K245)
HMCS La Malbaie (K273)
HMCS Belleville (K332) - Sold in 1947 to the Dominican Republic as Juan Bautista Cambiaso.
HMCS Cobourg (K333)
HMCS Frontenac (K335)
HMCS Ingersoll (K336)
HMCS Lindsay (K338)
HMCS North Bay (K339)
HMCS Owen Sound (K340) - Sold in 1945 to Greece as RHS Cadio.
HMCS Parry Sound (K341)
HMCS Peterborough (K342) - Sold in 1947 to the Dominican Republic as Gerardo Jansen.
HMCS St. Lambert (K343)
HMCS Smiths Falls (K345)
HMCS Whitby (K346) - Sold to Portugal in 1948 as NRP Bengo
HMCS Riviere du Loup (K357) - Sold in 1947 to the Dominican Republic as Juan Bautista Maggiolo.
HMCS Asbestos (K358)
HMCS Trentonian (K368)
HMCS West York (K369)
HMCS Thorlock (K394) - Sold in 1946 to Chile as BAC Papudo.
HMCS Louisburg (K401) - Sold in 1947 to the Dominican Republic and renamed Juan Alejandro Acosta.
HMCS Giffard (K402)
HMCS Hawkesbury (K415) - Sold in 1950 to Cambodia as Campuchea.
HMCS Listowel (K439)
HMCS Lachute (K440) - Sold in 1947 to the Dominican Republic and renamed Cristobal Colon.
HMCS Renfrew (K452)
HMCS Strathroy (K455) - Sold in 1946 to Chile as BAC Chipana.
HMCS Stellarton (K457) - Sold in 1946 to Chile as BAC Casma.
HMCS Mimico (K485)
HMCS Forrest Hill (K486)
HMCS Long Branch (K487)
HMCS Norsyd (K520) - sold to Israel, renamed INS Haganah (K-20)
HMCS Beauharnois (K540) - sold to Israel, renamed INS Wedgwood (K-18)
HMCS Fergus (K686)
HMCS Guelph (K687)
HMCS Merrittonia (K688)
[

]
VP Sachtouris (K40)
VP Kriezis (K62)
VP Apostolis (K84)
VP Tombazis (K106)
[

]
[

]
HMNZS Arabis (K385)
HMNZS Arbutus (K403)
[

]
KNM Andenes (K01)
KNM Rose (K102)
KNM Nordkyn (K193)
KNM Sørøy (K197)
KNM Montbretia (K208)
KNM Potentilla (K214)
[

]
[

]
Nada (K81)
Partizanka (K82)